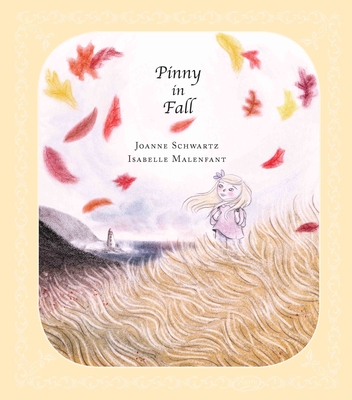 Pinny in Fall
Hardcover

* Individual store prices may vary.
Description
"Schwartz dreamily captures the small wonders of childhood and the air of magic that can accompany season's change." -- Publishers Weekly, starred review
On a crisp fall day, Pinny decides to go for a walk. She packs a sweater, her rain hat, a book, a snack and her treasure pouch. Set for adventure, Pinny's day includes a windy game of tag with her friends, an exciting call for help from the lighthouse keeper and a surprising encounter with the falling autumn leaves.
From Joanne Schwartz, author of the acclaimed picture book Town Is by the Sea, comes a story of friendship, resourcefulness and the beauty of fall, all cast in the gentle light of Isabelle Malenfant's soft pastel palette. The four short chapters in this book, suited for newly independent readers, capture the exhilarating feeling of a perfect fall day.
Correlates to the Common Core State Standards in English Language Arts:
CCSS.ELA-LITERACY.RL.K.7
>With prompting and support, describe the relationship between illustrations and the story in which they appear (e.g., what moment in a story an illustration depicts).
CCSS.ELA-LITERACY.RL.1.5
Explain major differences between books that tell stories and books that give information, drawing on a wide reading of a range of text types.
CCSS.ELA-LITERACY.RL.2.5
Describe the overall structure of a story, including describing how the beginning introduces the story and the ending concludes the action.
CCSS.ELA-LITERACY.RL.3.7
Explain how specific aspects of a text's illustrations contribute to what is conveyed by the words in a story (e.g., create mood, emphasize aspects of a character or setting)
CCSS.ELA-LITERACY.RL.4.1
Refer to details and examples in a text when explaining what the text says explicitly and when drawing inferences from the text.
Groundwood Books, 9781773061061, 32pp.
Publication Date: August 1, 2018