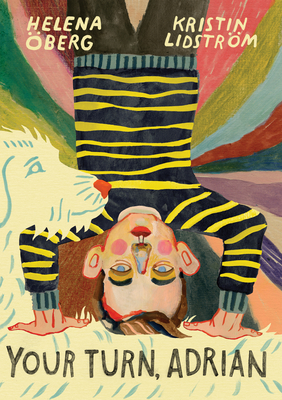 Your Turn, Adrian
Hardcover

* Individual store prices may vary.
Description
Almost every day, Adrian goes to school with knots in his stomach. He feels different from the other children, and alone. Whenever the teacher calls on him, his heart starts to pound and time stops. But he finds respite in his rich imagination -- a world full of color and joy in which he is a circus performer, capable of spectacular feats.
One day Adrian encounters a huge wolfhound that seems to be lost. He names her Heidi, takes her home, and soon the two of them are inseparable. Heidi's comforting presence provides friendship and tranquility, and even enables Adrian to read aloud in front of the class. This brief period of happiness ends when Heidi is reunited with her owner and Adrian finds himself alone again ... until a chance meeting leads to a heartwarming discovery.
A beautifully illustrated graphic novel about feeling vulnerable and struggling to meet expectations, and about friendship and the power of the imagination.
Groundwood Books, 9781773061498, 72pp.
Publication Date: May 1, 2019