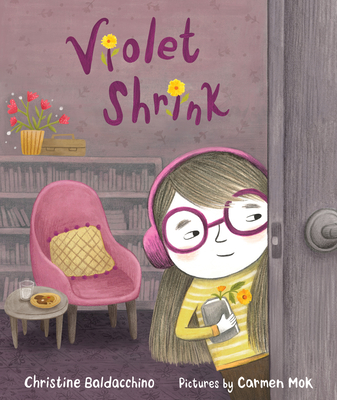 Violet Shrink
Hardcover

* Individual store prices may vary.
Description
Violet Shrink doesn't like parties. Or bashes, or gatherings. Lots of people and lots of noise make Violet's tummy ache and her hands sweat. She would much rather spend time on her own, watching the birds in her backyard, reading comics or listening to music through her purple headphones. The problem is that the whole Shrink family loves parties with loud music and games and dancing.
At cousin Char's birthday party, Violet hides under a table and imagines she is a shark gliding effortlessly through the water, looking for food. And at Auntie Marlene and Uncle Leli's anniversary bash, Violet sits alone at the top of the stairs, imagining she is a slithering snake way up in the branches.
When Violet learns that the Shrink family reunion is fast approaching, she musters up the courage to have a talk with her dad.
In this thoughtful story about understanding and acceptance, Violet's natural introversion and feelings of social anxiety are normalized when she and her father reach a solution together. Christine Baldacchino's warm text demonstrates the role imagination often plays for children dealing with anxiety, and the power of a child expressing their feelings to a parent who is there to listen. Carmen Mok's charming illustrations perfectly capture Violet's emotions and the vibrancy of her imagination. A valuable contribution to books addressing mental health.
Groundwood Books, 9781773062051, 32pp.
Publication Date: March 3, 2020