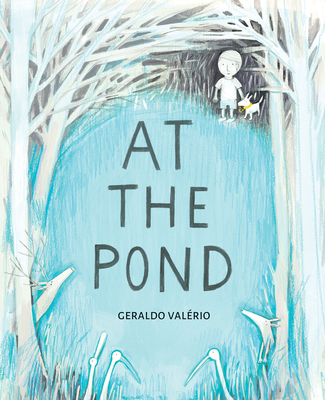 At the Pond
Hardcover

* Individual store prices may vary.
Description
On a dull gray day, a boy puts his dog on a leash and they walk to a shimmering pond where snowy white swans swim freely. One of the swans invites the boy and dog for a ride. They climb on its back and sail into a stunningly beautiful landscape, dotted with wildflowers, spoonbills and ibises. Foxes, rabbits and deer appear in this paradise, then butterflies and even bigger, more beautiful flowers. The boy unleashes his dog on shore, and the dog bounds off to play.
Now the boy wraps his arms around the swan's neck -- he has a new friend. But when he puts the leash on the swan, the sky turns stormy gray, the water becomes turbulent, and the other swans fly away. Both the boy and swan are miserable, until the boy realizes he must free his friend. When he drops the leash into the pond, warm color fills their world and they return to where the boy's dog happily awaits him.
Geraldo Val rio, a master of wordless picture books, explores the nature of true friendship and love in his newest creation.
Groundwood Books, 9781773062327, 48pp.
Publication Date: March 1, 2020