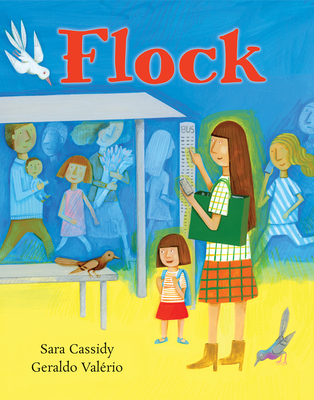 Flock
Hardcover

* Individual store prices may vary.
Description
In this fantastical story, a flock of feathery friends show up for a feast
Lunch turns into bird food when a little girl starts feeding birds at the bus stop. First, a pigeon she names Serious comes pecking, and then Fancy and Sleepy gather to gobble up the offerings. But what happens when more and more birds want to join in on the feast? And what are all these fantastical birds doing in the city, anyway?
This delightfully outlandish story by Sara Cassidy, beautifully illustrated by Geraldo Val rio, creator of My Book of Birds and Busy, Busy Birds, explores a child's wonder, a parent's preoccupation and an ordinary afternoon that escalates into a surreal adventure.
Key Text Features
illustrations
Correlates to the Common Core State Standards in English Language Arts:
CCSS.ELA-LITERACY.RL.K.6
With prompting and support, name the author and illustrator of a story and define the role of each in telling the story.
CCSS.ELA-LITERACY.RL.1.7
Use illustrations and details in a story to describe its characters, setting, or events.

Groundwood Books, 9781773064406, 32pp.
Publication Date: April 5, 2022