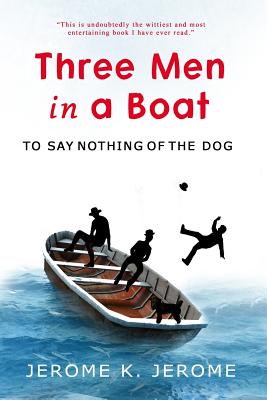 Three Men in a Boat (to Say Nothing of the Dog)
Paperback

* Individual store prices may vary.
Other Editions of This Title:
Paperback (3/21/2014)
Paperback (1/4/2021)
Paperback (4/20/2020)
Paperback (10/2/2019)
Paperback (9/6/2020)
Paperback (5/28/2020)
Paperback (8/9/2017)
Paperback (4/1/2020)
Paperback (2/23/2017)
Paperback (2/23/2017)
Paperback (12/15/2020)
Paperback (9/20/2020)
Paperback (12/31/2018)
Description
This edition is cleanly formatted for easy reading. 12 point Garamond, 1.15 spacing. Three Men in a Boat is a comical account of three friends: Jerome, Harris, George and their dog Montmorency. The three friends agree that they are overworked and tired and in dire need of a holiday. After weighing options of a country trip and a sea voyage they decide on a boat ride to the River Thames. Right from hiring the boat to planning their activities the story escalates into a comical sketch of numerous camping and boating mishaps. Three Men in a Boat is a humourous and witty book for all ages and all generations. Jerome has a knack for accentuating the comical even in the mundane and serious. Every chapter brings with it an abundance of amusement and laughter. The writing is sharp, witty and timeless. One of the many remarkable things about Three Men in a Boat is how fresh the humour is to modern day readers. It was an instant success when it appeared in 1889 and is still a bestseller to this day.
Magdalene Press, 9781773350035, 192pp.
Publication Date: October 18, 2016
or
Not Currently Available for Direct Purchase