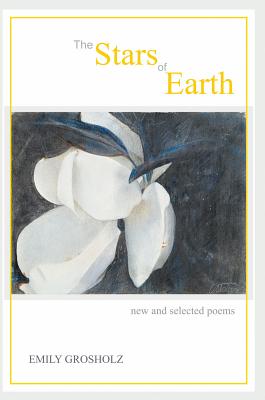 The Stars of Earth - New and Selected Poems
Hardcover

* Individual store prices may vary.
Other Editions of This Title:
Paperback (10/16/2017)
Description
Poetry. Emily Grosholz weaves elements of philosophy, mathematics and the sciences into her experience of the social and natural world, to produce wise and cosmopolitan poetry of high lyricism. THE STARS OF EARTH starts with new poems chronicling the months of a year lived and observed, followed by selections from Grosholz's previous volumes in chronological order. This rare treasury spans four decades of Grosholz's acclaimed poetry.

Emily Grosholz is a poet of radiant intelligence, patient lyricism, and meticulous craft. She has a gifted naturalist's regard for the living world and wherever she looks that world, for its part, offers her its poetry. With a philosopher's wit and a mathematician's eye for beauty, she can link geometry and physics to the apricot color of a robin's breast. She also writes with great empathy for her subjects. THE STARS OF EARTH collects four decades of her elegant and excellent work. We are lucky to have it.--Mark Jarman

Compressed on the page then wafting ever outward on wings of imagination, fine poetry and fine theorems are first cousins. Or, more rarely, in poems like Emily Grosholz's, twins: 'Timid and fluid rainbows / Over the nacreous surfaces / Of shells, on peacock feathers / And soap-bubbles, appear / Whenever incident light / Reflects off nether and upper / Laminae of films, one wave train / Tagging after another / Like a younger sister.' Read this book.--Marjorie Senechal

I admire Emily Grosholz because of the sounds her poems make. She is always experimenting, even when the results seem effortless. The cunning irregularities are what most compel: the reader is never allowed to relax. The general readers among us are admitted courteously to the civilizing company. The heart, not as a hackneyed valentine but as a living muscle, is always present as pulse and passion. The overwhelming sense these poems give is of affirmation.--Michael Schmidt

THE STARS OF EARTH is that rarest of books. Emily Grosholz chronicles everything from love to loss, childhood to marriage to parenthood. She explores two continents and the minds of scientists, artists, friends, long-lost family. And as befits a poet-philosopher whose pursuits include the philosophy of mathematics, she achieves potent mixes of the daily and the deep: Nietzschean thought served up in a deli; a toddler's first steps along 'the frail parabolas of love.'--Melissa Balmain.
Able Muse Press / Word Galaxy, 9781773490052, 320pp.
Publication Date: October 16, 2017