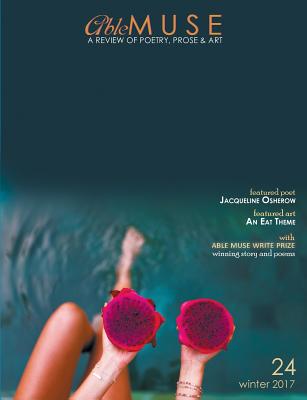 Able Muse, Winter 2017 (No. 24 - print edition)
a review of poetry, prose & art
Paperback

* Individual store prices may vary.
Description
This is the seminannual Able Muse Review (Print Edition) - Winter 2017 issue, Number 24. This issue continues the tradition of masterfully crafted poetry, fiction, essays, art & photography, and book reviews that have become synonymous with the Able Muse-online and in print. After more than a decade of online publishing excellence, Able Muse print edition maintains the superlative standard of the work presented all these years in the online edition, and, the Able Muse Anthology (Able Muse Press, 2010).
". . . ABLE MUSE ] fills an important gap in understanding what is really happening in early twenty-first century American poetry." - Dana Gioia.
CONTENTS:
WITH THE 2017 ABLE MUSE WRITE PRIZE FOR POETRY & FICTION -
Includes the winning story and poems from the contest winners and finalists.
EDITORIAL - Alexander Pepple.
FEATURED ART - An "Eat" theme.
FEATURED POET - Jacqueline Osherow;
(Interviewed by Malachi Black).
FICTION - Tim Frank, Leslie Jill Patterson.
ESSAYS - Rachel Hadas, Sam Aaron Morgan.
BOOK REVIEWS - Brooke Clark.
POETRY - Hailey Leithauser, Gail White, Scott Ruescher, Stephen Kampa, Catherine Chandler, Kathryn Locey, Jean L. Kreiling, Chris Fahrenthold, D. R. Goodman, Alexander Pushkin, Jay Rogoff, Terese Coe, Heinrich Heine, Timothy Murphy, Ann M. Thompson, Rob Wright.
Able Muse Press, 9781773490083, 148pp.
Publication Date: December 29, 2017