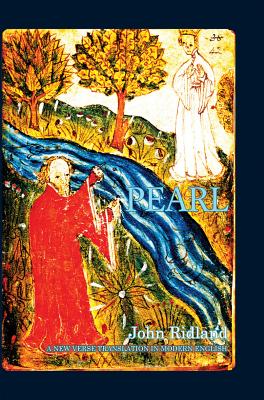 Pearl
A New Verse Translation in Modern English
Hardcover

* Individual store prices may vary.
Other Editions of This Title:
Paperback (9/24/2018)
Description
Poetry. PEARL is an intricate fourteenth-century poem written by one of the greatest Middle English poets--the anonymous artist who also gave us Sir Gawain and the Green Knight. This medieval masterpiece presents the meditative Dream Vision of a father (the Dreamer) mourning the loss of a young daughter (his Pearl). Having recently translated Sir Gawain and the Green Knight to critical acclaim, John Ridland now tackles the even more challenging PEARL. He succeeds in giving us another innovative and pleasurable translation that retains line-by-line fidelity with the source material, while bringing the fourteenth-century Northwest Midland dialect into an unstrained contemporary idiom. Ridland's inventive meter and rhyme convey the sonic beauty of the original. Moreover, his preface provides a comprehensive background and analysis of PEARL, points out the techniques deployed by the original poet, and explains Ridland's own approach to translating the poem. This translation will delight and reward the reader. John Ridland's translation of SIR GAWAIN AND THE GREEN KNIGHT made that fourteenth-century chivalric romance not only accessible but alive to our twenty-first century sensibilities. Now his translation PEARL, also by the anonymous Gawain Poet, does the same for that poignant dream vision. The poem's formal complexities are still here, mutatis mutandis, but they enhance rather than obscure the story of a grieving father's dream vision of his lost daughter in paradise. Six hundred years vanish, and the reader feels an intimate, profound emotional connection with the universal human experiences of loss, grief, and hope.--Richard Wakefield An attractively readable translation, which makes a real attempt to convey the metrical beauty and intricacy of the original.--Ad Putter and Myra Stokes, editors of The Works of the Gawain Poet After reading John Ridland's translation of SIR GAWAIN AND THE GREEN KNIGHT some time ago, I thought, 'Well, he's done it now: doomed himself to never achieving anything as remarkable as this again, because it's impossible.'
But I was wrong: his new translation of PEARL--an even more challenging work by the same anonymous fourteenth-century Gawain Poet--is equally musical and moves with the same charmed pace in the telling that is perfect for what is being told.--Rhina P. Espaillat John Ridland's translation offers us, in accessible, contemporary English, all the dazzling complexity and beauty of Pearl's structures, rhythms, and rhymes.--Maryann Corbett.
Able Muse Press, 9781773490267, 154pp.
Publication Date: September 24, 2018