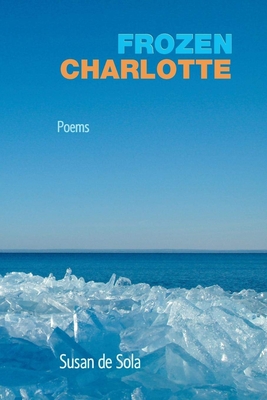 Frozen Charlotte
Paperback

* Individual store prices may vary.
Other Editions of This Title:
Hardcover (10/7/2020)
Description
Poetry. Women's Studies. Jewish Studies. Susan de Sola's FROZEN CHARLOTTE spans the breadth of human experience from celebration to lamentation, from gravity to lightheartedness, from domestic and quotidian scenarios to historic upheavals and their aftermaths, both European and American. She skillfully deploys an impressive range of formal styles and free verse in her debut collection. De Sola's FROZEN CHARLOTTE manifests all the hallmarks of a seasoned poet in surefootedness, wit, and depth of empathy. The breadth of Susan de Sola's poetry, by turns gossamer light and solemnly elegiac, offers a pleasurable aesthetic surprise from poem to poem-from 'sun-starved Dutchmen' to immigrant Jews in Manhattan, from tulips to the life of a friend whose actual name she never knew, from the imagined language of rocks to a war widow's cedar closet, from the death of an infant to conjugal love. Susan de Sola evinces wit and knowingness, a dexterity with verse, a way with form. The pleasure of de Sola's poetry is to be in the presence of virtuosity and insight, of a poet who knows what it means to be human, and when to be serious and when to be light. Mark Jarman When I read Susan de Sola's uncanny title poem 'Frozen Charlotte' for the first time, I couldn't stop thinking about it. I feel the same about the book as a whole, a virtuoso grouping of form and topic, a book that is haunting, yet which also sparkles with a sense of humor that I much enjoyed. Susan de Sola, it seems, can write in any form. While this book is her first full-length collection, it is the work of a master craftsperson. Kim Bridgford Whether their subject is a painting by Sargent, a gathering at the site of a Holocaust deportation center, or the bestial appearance of ATM machines, Susan de Sola's poems seem animate with her vision: the poems breathe on the page. Part of de Sola's power lies in her formal acumen. Every word here seems carefully sieved from the welter of English, and each poem's form is perfectly matched to its ambition and music. De Sola's tonal range is equally rich she is by turns funny and dark, pensive and sly, her voice resounding in the reader's head long after a poem's final line. Like its memorable title poem, FROZEN CHARLOTTE intrigues, goes deep, surprises. It is a book rich with the pleasures the best poetry provides. Clare Rossini This book has many moods and many messages for any reader who pays the poems collected here the attention they deserve. At times it seems a fairground, at times a graveyard, and neither cancels the other out. It is a mark of Susan de Sola's always persuasive rhetoric that we see that both characterizations are somehow, simultaneously, true, and that despite their exhilarating variety these poems are of a piece and come from one complex, sophisticated, supremely alert sensibility. Dick Davis.
Able Muse Press, 9781773490373, 126pp.
Publication Date: August 30, 2019