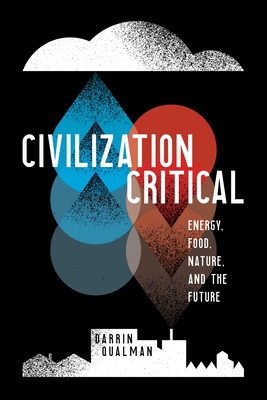 Civilization Critical (Paperback)
Energy, Food, Nature, and the Future
Fernwood Publishing, 9781773630861, 360pp.
Publication Date: April 1, 2019
* Individual store prices may vary.
Description
The modern world is wondrous. Its factories produce ten thousand cars every hour and ten trillion transistors every second. We carry supercomputers in our pockets, and nearly a million people are in the air at any time. In Civilization Critical, Darrin Qualman takes readers on a tour of the wonders of the 21st century.
But the great strength of our modern word is also its great weakness. Our immense powers to turn resources and nature into products and waste imperil our future. And plans to double and redouble the size of the global economy veto sustainability.
So, is our civilization doomed? No. Doom is a choice. We can make different choices.
Qualman demonstrates that a 19th- and 20th-century transition to linear systems and away from the circular patterns of nature (and of all previous civilizations) is the foundational error--the underlying problem, the root cause of climate change, resource depletion, ocean's full of plastics, and a host of mega-problems now intensifying and merging, with potentially civilization-cracking results. In this sweeping work, Qualman reinterprets and re-explains the problems we face today, and charts a clear, hopeful path into the future.
About the Author
Darrin Qualman is a civilizational critic. He also farmed with his family in Saskatchewan, Canada, and for many years he served as director of research for Canada's National Farmers Union.