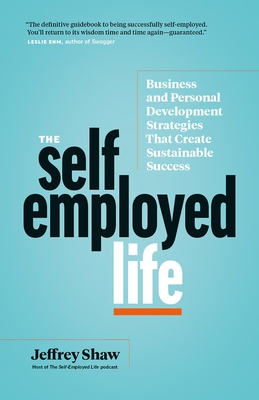 The Self-Employed Life
Business and Personal Development Strategies That Create Sustainable Success
Paperback

* Individual store prices may vary.
Praise For The Self-Employed Life: Business and Personal Development Strategies That Create Sustainable Success…
"Becoming self-employed is a dream for many. But without the right strategies in place, the reality can sometimes be confusing and frustrating. Jeffrey Shaw's new book provides a valuable resource that will guide any entrepreneur—new or experienced—to sustainable success." —Dorie Clark, author of Entrepreneurial You and executive education faculty, Duke University Fuqua School of Business

"Jeffrey Shaw shows you the critical link between your own growth and that of your business. This book is your guide to pulling off both." —Mike Michalowicz, author of Fix This Next and Profit First

"This book will be worthwhile for anyone running their own business or thinking of starting one. Candid, refreshing advice for self-guided businesspeople." -Kirkus Review

"As an association that supports small business owners, we are always looking for ways to encourage, inspire and educate our members. Jeffrey Shaw's The Self-Employed Life is exactly what our members need to hear. Jeffrey's approach to helping small business owners take control of their lives and their businesses is inspired yet practical. Readers are provided with great takeaways, actions and ideas they can implement right away. His three-pronged approach to success can help a small business owner reframe the way they think to create true and lasting change. This book provides a mindset shift that entrepreneurs truly need." —Angela Kurkian, Director of Education, Professional Photographers of America

"The Self-Employed Life gives business owners the integrated perspective and tools they need to not only build a powerful business model, but to enjoy their lives while building it. A fun and accessible read that will help you awaken your creativity, change your habits, and strengthen your brand." —Pam Slim, author of Body of Work

"While being self-employed has long been a dream for a lot of people, most have no clue where to begin. Jeffrey Shaw offers practical advice that's rooted in deep experience running his own businesses. The Self-Employed Life will provide you with the tactics and mindset you need to thrive as a small business owner."
—Todd Henry, author of The Motivation Code

"Welcome to your very own business mentor disguised as a book. Jeffrey Shaw asks you the questions you are often afraid to ask yourself. Let The Self-Employed Life be your best friend on the bumpy road of entrepreneurship." —Phil M Jones, self-employed since fourteen years old and bestselling author of Exactly What to Say

"The Self-Employed Life is a breath of fresh air. Instead of offering up the same list of clichéd (not to mention exhausting) practices, Jeffrey Shaw's book provides a grounded, holistic alternative approach to achieving sustainable success in the full spectrum of your life as a business owner. Through an approach that combines personal development, business strategies, and several powerful daily habits, The Self-Employed Life will help you become a bigger, bolder version of yourself—helping you to embody the whole reason you went into business in the first place." —Denise Jacobs, author of Banish Your Inner Critic

"Jeffrey Shaw has created the definitive guidebook to being successfully self-employed. You'll return to its wisdom time and time again—guaranteed." —Leslie Ehm, author of Swagger
Page Two, 9781774580042, 220pp.
Publication Date: May 4, 2021