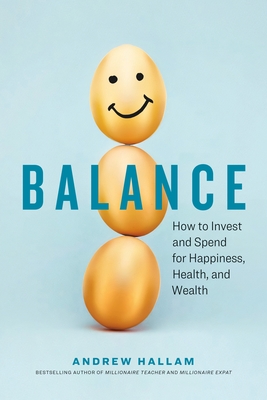 Balance
How to Invest and Spend for Happiness, Health, and Wealth
Paperback

* Individual store prices may vary.
Description
Stop chasing money and start redefining success

Sure, money is important. And yes, it can make you happy—but only up to a point. The truth is, science has shown that we each have a set point that links our earnings with happiness; go beyond that point, and your happiness ceases to increase with income.

In this illuminating guide to living a financially healthier, and happier, life, bestselling author and financial journalist Andrew Hallam demonstrates how you can optimize your income for maximum happiness by investing responsibly and living according to your values. You'll find tips for using robo investors, insights for investing in socially responsible funds, and how to craft a personal budget that aligns your spending with what you hold most dear.

Drawing on behavioural science, evidence-based investing, and environmental science, he shows you how to start framing success in a way that actually brings happiness, not stress, into your life—by balancing your money, connection, health, and purpose.

Whether you're a broke teenager, a middle-aged millionaire or someone who hopes to retire on a shoestring, we all have one thing in common: we want to enjoy our lives. That means living better and laughing more. It means caring for the environment and helping our children to succeed—while defining "success" the way we really should.
Praise For Balance: How to Invest and Spend for Happiness, Health, and Wealth…
"Balance is one of the best personal finance books you'll ever read—because it's so much more than that. Andrew Hallam has written an insightful guide to spending and investing money, not to impress others but to build a life of satisfaction and significance." Daniel H. Pink, #1 New York Times bestselling author of When, Drive, and To Sell Is Human

"Decades ago, Andrew Tobias gave us The Only Investment Guide You'll Ever Need. It's still a good read. But Balance, by Andrew Hallam, ups the game and takes us many steps further. Balance gives us a complete, modern context for the role of money and investing in our lives. Beneath a rich collection of anecdotes and stories, this short book provides a depth of research into the realities of investing and the errant relationship between money and happiness." Scott Burns, personal finance columnist and creator of the Couch Potato Portfolio

"Entertaining and well-written yet solidly rooted in science, Balance offers a fresh look at what it means to be truly successful in life." Marta Zaraska, bestselling author of Growing Young: How Friendship, Optimism and Kindness Can Help You Live to 100

"In Balance, Andrew Hallam describes what it means to be 'successful.' And it's not what you might expect. If you want a healthy mindset with respect to money, health, relationships and purpose, you'll learn a lot from this humorous, impressively researched book." Leon Logothetis, bestselling author of The Kindness Diaries

"Andrew Hallam isn't just a fabulous personal finance writer. His book, Balance, invites us to go deeper to consider one of the oldest, most important questions of all time: 'How should I live my life?' The right questions matter, and Andrew knows which ones are worth asking." Adrian Juric, filmmaker and psychotherapist at Vancouver Walk & Talk Therapy

"A must-read! Balance is a remarkable roadmap for overcoming the greatest challenge in life: finding happiness. You will learn, laugh, and be inspired by the personal stories and the science revealing the intersection of wealth, health, and happiness. Andrew Hallam is the best friend who tells you the truth about money, and you'll be wealthier for it. Equal parts investing smarts and wellness savvy, this rare book tells you how to have it all. A flat-out great read." Kerry K. Taylor, founder of Squawkfox.com

"If you're feeling baffled by how to approach money in a post-pandemic world, spend a few hours with Andrew Hallam. His new book, Balance, offers a master class in how to invest wisely, but it goes well beyond the normal stocks and bonds stuff. It offers a wise meditation on how to think of money as part of your larger life plan. Whether you're a multimillionaire entrepreneur or a fitness buff living in his car by choice, you'll find insights here that can reshape both your portfolio and your priorities." Ian McGugan, The Globe and Mail

"In Balance, Andrew Hallam offers a simple and sensible approach for a secure and satisfying life. He provides a guide to achieving financial success, while promoting physical, emotional, and spiritual well-being. It is a thoughtful and thought-provoking book that I will strongly encourage my young adult children to read." John S. Woerth, former chief spokesperson, Vanguard

"Balance is a must-read, filled with humorous stories and scientific, evidence-based tips. Andrew Hallam explains how to spend and invest your money to maximize life satisfaction—for you, your children and your grandchildren. I highly recommend it." Larry Swedroe, author of Your Complete Guide to a Successful and Secure Retirement; chief research officer at Buckingham Strategic Partners

"Low-cost index funds may be the smartest investment for most people, but they won't tell you how to live a good life. Andrew Hallam's excellent book, Balance, will." Benjamin Felix, Portfolio Manager, Head of Research & Client Education, PWL Capital

"Imagine there was a multi-verse where the most content, satisfied, happiest future version of yourself traveled back in time to give you the blueprint to lead a fulfilling life. That's this book." Preet Banerjee, financial educator at YourMoneyDegree.com
Page Two, 9781774580752, 280pp.
Publication Date: January 18, 2022
About the Author
When Andrew Hallam isn't fighting off mosquitoes in tropical jungles, cycling up a mountain with his wife during a downpour or trying to drive to Argentina in a van, he's speaking and writing about happiness and personal finance. The former high school teacher wrote the international best-selling books, Millionaire Teacher and Millionaire Expat. Profiled on such media as CNBC and The Wall Street Journal, he's the first person to have a #1 selling finance book on Amazon USA, Amazon Canada and Amazon UAE. He has written columns for The Globe and Mail, Canadian Business, MoneySense, Swissquote and AssetBuilder. You can access his website at andrewhallam.com
or
Not Currently Available for Direct Purchase