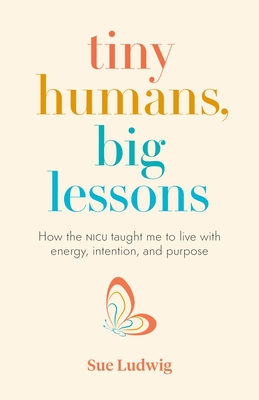 Tiny Humans, Big Lessons
How the NICU Taught Me to Live With Energy, Intention, and Purpose
Paperback

* Individual store prices may vary.
Description
What if you cared for your life the way the NICU cares for its patients?

Imagine standing over a newborn and whispering, "I hope you work your fingers to the bone chasing someone else's notion of the 'good life' until you're so exhausted you don't remember who you are or why you matter." It's unthinkable. Yet that's where many of us find ourselves as adults: depleted, feeling stuck, and certain that life's opportunities have passed us by. Isn't it time we treated ourselves with more care?

In this remarkable book of personal and professional transformation, Sue Ludwig, a neonatal therapist, shares how her tiny patients in the NICU (neonatal intensive care unit) guided her to step off her hamster wheel of existence and into a new way of living. Through real patient stories, reflection, and practical tools, she reveals how, by following the lead of these in her care, she found her way to a more vibrant, purposeful, and impactful life than she ever imagined possible—and how you can, too.

You can break out of survival mode, take charge of your energy, and redirect it toward development and growth—just as Ludwig's fragile NICU patients do. Moment by moment, baby step by baby step, chapter by chapter, you'll come to see that your energy and potential aren't gone. They're not even lost. They're simply waiting for you to reclaim them.
Praise For Tiny Humans, Big Lessons: How the NICU Taught Me to Live With Energy, Intention, and Purpose…
"Tiny Humans, Big Lessons is a deeply kind, wise, and engrossing guide to life. As Sue Ludwig describes the parallels between the struggles of premature babies and our own daily struggles, she reminds us that all of us can feel small and fragile—and that all of us deserve the care and focus she gives to the babies under her care. Her book is an inspiring, pragmatic testament to the compassion human beings are capable of both giving and receiving." – Martha Beck, PhD, New York Times bestselling author of The Way of Integrity

"The most valuable life lessons can come from the least expected places. Sue Ludwig shares hard-earned wisdom about the practical art of living with meaning and purpose." – Todd Henry, author of Die Empty

"Generous and powerful, Sue Ludwig reminds us that the best way to ensure a happier future is to live with intent and to embrace each moment." – Seth Godin, bestselling author of The Practice
Page Two, 9781774580974, 224pp.
Publication Date: March 8, 2022
About the Author
Sue Ludwig is a sought-after speaker, consultant, writer, and educator. A licensed occupational therapist and certified neonatal therapist, she is president and founder of the National Association of Neonatal Therapists, where she uses her unique blend of clinical expertise, innovation, and leadership skills to support the advancement of this specialized field on a global level. Sue lives in Cincinnati, Ohio with her husband and has two grown children.