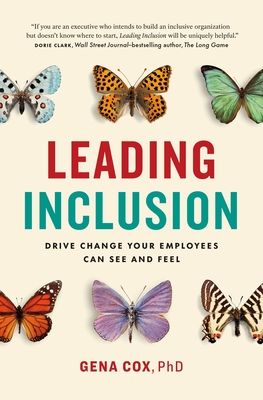 Leading Inclusion
Drive Change Your Employees Can See and Feel
Hardcover

* Individual store prices may vary.
Description
In this groundbreaking new book, organizational psychologist and executive coach Gena Cox shows you how to lead an inclusive organization, from the top down, and to seek solutions to the racially based discontent that pervades many employees' experiences. Drawing on psychological science, corporate leaders, diversity, equity, and inclusion (DE&I), and her own experience in corporate America, Cox explains how to reframe the conversation, so you can more effectively guide the rest of the leaders in your organization. She helps you understand the key questions you should ask, the constituents you must address, and the difficult actions you must take to build an inclusive organization.

In this book, you will learn:
- the historical facts that created, and reinforce and maintain, many of the social patterns encountered in work-life today;
- how to understand your experience as a top leader, regarding DE&I issues, within the context of organizational realities;
- what you must do to ensure that you have an accurate picture of the current experience of all your employees;
- science- and experience-based insights intended to help you identify the specific next steps for your organization.

Your organization can become a haven of inclusion, even if it is not so today. Leading Inclusion will empower you with the psychological, historical, and practical knowledge to change your organization—and America—one employee at a time.
Page Two, 9781774581797, 240pp.
Publication Date: October 11, 2022
About the Author
Gena Cox is an organizational psychologist and executive coach. Gena advises executives how to build and lead inclusive workplace cultures that work for all employees, not just a lucky few. Gena is active in the Society of Industrial and Organizational Psychology and serves on advisory boards at the University of South Florida and the University of Tampa. She contributes to national publications, including Harvard Business Review, and holds a Ph.D. in Industrial & Organizational Psychology.