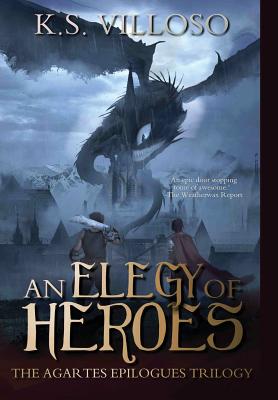 An Elegy of Heroes
The Agartes Epilogues Complete Trilogy
Hardcover

* Individual store prices may vary.
Description
The Empire of Dageis' quest for magic has left a trail of shattered homes and lost kingdoms. In the cold wake of grief, those left behind must learn to pick up the pieces. A character-driven epic fantasy following the footsteps of Robin Hobb.

Book Geeks' Uncompromised Top Books of 2017
The Weatherwax Report Top 10 Indie
Tome and Tankard's Best of 2017
Nominated for Best Self-Published/Independent Novel of 2017 for r/fantasy's Stabby Awards
Nominated for Best Novel of 2017 for r/fantasy's Stabby Awards

After his friend is killed during a botched mission, the mercenary Kefier is chased down by former associates for the crime. Already once branded a murderer, fate seems to continue to frown on him when he comes face-to-face with his friend's sister: Sume, a young woman reeling from her own string of bad luck. As one flees from the past and the other runs to it, they find themselves embroiled in a plot to restore a magical beast to life using children as sustenance.

In the meantime, the young, arrogant merchant Ylir takes a special interest in Kefier while he battles with a powerful mage, one whose name has been long forgotten in legend. At the crux of their conflict is that same, terrible creature with one eye, cast from the womb of a witch, with powers so immense whoever possesses it holds the key to bring the continent to its knees.

Come and discover K.S. Villoso's debut fantasy series, which has been called "ambitious," "remarkably solid," and "expertly set up."
Liam's Vigil Publishing Co., 9781775235675, 758pp.
Publication Date: January 16, 2019
or
Not Currently Available for Direct Purchase