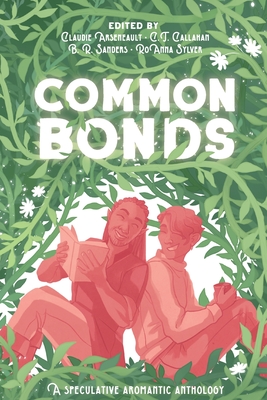 Common Bonds
A Speculative Aromantic Anthology
Paperback

* Individual store prices may vary.
Description
Common Bonds is an anthology of speculative short stories and poetry featuring aromantic characters. At the heart of this collection are the bonds that impact our lives from beginning to end: platonic relationships. Within this anthology, a cursed seamstress finds comfort in the presence of a witch, teams of demon hunters work with their rival to save one of their own, a peculiar scholar gets attached to those he was meant to study, and queerplatonic shopkeepers guide their pupil as they explore their relationship needs and desires. Through nineteen stories and poems, Common Bonds explores the ways platonic relationships enrich our lives.
Contributors include: Morgan Swim, Vida Cruz, Camilla Quinn, Jennifer Lee Rossman, Syl Woo, A. Z. Louise, Cora Ruskin, E. H. Timms, Thomas Leonard Shaw, Jeff Reynolds, Marjorie King, Avi Silver, Ren Oliveira, Mika Stanard, Ian Mahler, Adriana C. Grigore, Rosiee Thor, Polenth Blake
Claudie Arseneault, 9781775312970, 306pp.
Publication Date: January 12, 2021