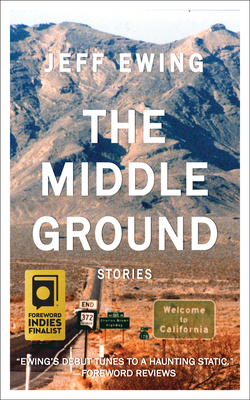 The Middle Ground (Paperback)
Stories
Into the Void, 9781775381303, 230pp.
Publication Date: February 19, 2019
* Individual store prices may vary.
Description
The middle ground is a place we've all crossed, the halfway point between who you are and who you want to be. In Jeff Ewing's collection of stories, his diversely American characters call it home. From a story of a man living in the shadow of an abandoned missile silo that may hold the answer to a mystery of vanished children, to one of a small-town beauty tentatively courting stardom, Ewing's sparse, musical prose illuminates lives lived in that space between fear and courage, hope and regret, life and death. Fog remembers, revenge beckons, and loneliness gives birth to fragile beauty—while in the distance the future gleams on a car hood, daring bold hands to seize it.
About the Author
Jeff Ewing is a playwright, poet, technical writer, and editor. His fiction has been widely published in prominent literary magazines, including Atticus Review, Crazyhorse, Juked, and New World Writing. His poems can be found in numerous literary journals, including Atlanta Review, Catamaran, Tar River Poetry, and Willow Springs. His full-length play The Middle of Nowhere received the Maxim Mazumdar New Play Award and world premiered at the Alleyway Theatre in Buffalo, New York. His one-act plays have won the FirstStage Prize and have been featured in the Samuel French Off-Off Broadway Short Play Festival. He lives in Sacramento, California.
Praise For The Middle Ground: Stories…
"With sharp, precise prose, Ewing's stories remind of Annie Proulx and Denis Johnson. These are Polaroids collected on a shelf, forgotten, then viewed again to tell of the lives they once chronicled—now dusty, scratched, lost. The effect is magnificent." —Christian Kiefer, author of Phantoms and The Animals
"Ewing's debut tunes to a haunting static." —Karen Rigby, Foreword Reviews
"These landscapes, these characters, this prose, my god, it grabs you and it doesn't let you go." —Kevin Wilson, Author of THE FAMILY FANG and BABY, YOU'RE GONNA BE MINE
The Middle Ground will be on NetGalley for three months from December 14.
"This collection provides a highly interactive, almost participatory experience: A phrase, line, or passage elicits an audible gasp, a pause to reflect, a heavy sigh, or even an uttered 'Holy crap.'" —Julia Tagliere, SmokeLong Quarterly