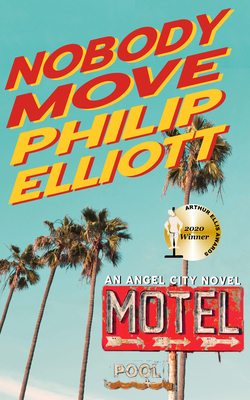 Nobody Move (Angel City) (Paperback)
Into the Void, 9781775381358, 315pp.
Publication Date: September 10, 2019
* Individual store prices may vary.
Description
Eddie Vegas made a terrible mistake. Now he has to pay the price. After a botched debt collection turned double murder, Eddie splits, desperate to avoid his employer, notorious L.A. crime boss Saul Benedict, and his men (and Eddie's ex-partners), Floyd and Sawyer, as well as the police. Soon he becomes entangled with the clever and beautiful Dakota, a Native American woman fresh in the City of Angels to find her missing friend—someone Eddie might know something about. Meanwhile in Texas, ex-assassin Rufus, seeking vengeance for his murdered brother, takes up his beloved daggers one final time and begins the long drive to L.A. When the bodies begin to mount, Detective Alison Lockley's hunt for the killers becomes increasingly urgent. As paths cross, confusion ensues, and no one's entirely sure who's after who. But one thing is clear: They're not all getting out of this alive. As much a love letter to neo-noir cinema and L.A. as it is satire, the first book in the Angel City novels is a lightning-speed crime thriller equal parts Elmore Leonard and Quentin Tarantino.
About the Author
Philip Elliott is an award-winning author, freelance editor, and founder and editor-in-chief of award-winning literary journal and small press publisher Into the Void. Philip was a National Juror of the 2019 Scholastic Art & Writing Awards, and a winner of the 2018 Big Pond Rumours Chapbook Prize. His writing has been nominated for The Pushcart Prize and Best of the Net. A music and film obsessive, Philip lives in Toronto with his wife and their spoiled pug.
Praise For Nobody Move (Angel City)…
"Satire at its best... a shout out to some of the best pulp movies and the best crime stories ever... Be prepared not to take a breath" — Anne-Marie Reynolds, Reader's Favorite
"like Tarantino on the page... rushes at you from page one." — Dietrich Kalteis, award-winning author of RIDE THE LIGHTNING
"Elliott has a gift for upholding momentum that never slows. The characterization is great, but it's the high-octane action and a horde of twists along with tight plotting that make the book a winner." — THE PRAIRIES BOOK REVIEW
"...could have been written during the heyday of noir novels... Elliott is an insightful writer honoring the past with a jet-fueled tale of the present. His novel is sharp, stylish, and well-written. It makes reading fun again." — Joe Kilgore, US REVIEW OF BOOKS
"A multifaceted series opener by a promising new voice in hard-boiled crime fiction... Fans of... Elmore Leonard and Jim Thompson, will find much to savor here." — Kirkus Reviews
"... a new spin on the crime thriller genre" — Philip Zozzaro, San Francisco Book Review
"... fast-paced and chock full of interesting characters [and] chillingly delicious evil" — James Bernstein, IndieReader
"Elliott has a real feel for comedic noir in the Elmore Leonard vein, and his debut novel screams cult classic." ⁠— Booklist
"Philip Elliott has created a novel that crackles with energy, a kind of wildness in the language and plotting that is thrilling to hold onto. It's impossible to put down. But it also plays with your expectations of the genre, stealing pieces from both likely and unlikely sources and reconfiguring them into something completely original." — Kevin Wilson, NYT bestselling author of Nothing to See Here
"A rollicking rampage of wise guys, sassy strippers, hard-boiled detectives and cold-blooded killers, Nobody Move easily adds up to near-perfect pulp fiction. A simple shakedown turns into homicide then escalates as an angry mob boss despatches a contract killer, with Eddie the hapless protagonist eventually being coerced into a multi-million dollar bank heist while trying to save the girl (whose best friend he murdered back at the beginning. Oops). What could possibly go wrong? Eddie's story is a freight-train of good intentions which get shunted onto the fast track to hell. He's not an altogether bad bloke (for a mob enforcer who collects debts with menaces and spends all his spare time in strip joints), but his lazy complicity has led him a long way into iniquity. You don't end up murdering a couple of swells entirely by accident. In fact, few of the characters display much in the way of redeeming features. Eddie's chaotic bank-robbing colleagues – who require a heavy metal soundtrack to make a successful getaway – are disloyal liars. Sadistic crime boss Saul is brutally bad to the bone. Diego the hitman comes with zero conscience, serious firepower and no compunction about killing absolutely, positively every sucker in the room. Only Dakota – a young woman seeking the truth about her missing friend – and LAPD detective Alison Lockley are unambiguously on the side of the angels. And both of these women aren't above bending the rules to suit their righteous purposes. In some ways, the purest character in this entertaining ensemble piece is Rufus, the almost unstoppable former assassin who returns from retirement to avenge his dead brother. Think No Country For Old Men, but minus the nihilistic bitterness – there's a solid streak of glee running straight through this melange of mischief. Author Philip Elliott throws absolutely everything into the mix and saturates his snappy dialogue in so many musical and cinematic references that the pages almost shake from the soundtrack pounding. At times Nobody Move reads just like a screenplay and there's no escaping the comparisons to Tarantino or the Coen brothers. Mind you, I could've done without the long lecture on the plight of Native American young women or the strident outbursts about calculated chauvinism. There's definitely a place in crime fiction for discussing serious social issues, but these long-winded detours sat uncomfortably alongside the pell-mell pace of the galloping narrative. Combining heartfelt moral commentary with black humour, a rising body count and frantic action is a tricky balancing act: let's hope Elliott has plenty of opportunity in future to perfect that skill. A flickering neon nugget of first class neo-noir." — Rowena Hoseason, Murder, Mayhem & More

"Nobody Move is an apt title for this book, as any sudden action among the characters can bring everything to a brutal, bloody stop. But momentum is whirling all around. Eddie Vegas pulling the trigger at the wrong time, Dakota searching for her missing sister, Rufus needing retribution for a dead brother. Then there's Floyd and Sawyer, who have their own thing going on the side, while working for the crime boss who wants Vegas dead. Philip Elliott has written a book full of unbridled characters riding full-tilt into the abyss. Some are corrupt and licentious, some are confused and determined. All of them need to be very careful of their next step – but that's not too likely. A debut in the Angel City Series and a fun read. Enjoy it!" —June Lorraine Roberts, Murder in Common