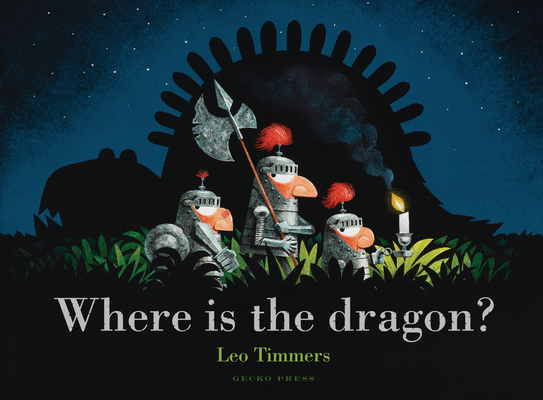 Where Is the Dragon?
Hardcover

* Individual store prices may vary.
Description
A hide-and-seek picture book from New York Times award-winning author Leo Timmers, about three silly knights and a clever dragon in disguise.
The king can't sleep for fear of the dragon, so he sends his three knights outside to find it. With only one candle between them, they go out into the dark. Is that a dragon? Attack But every suspicious shape turns out to be something else, until the knights confidently turn for home, not noticing what's behind them.
This cleverly illustrated game-inside-a-book will have young children shouting out loud in delight as they spot the dragon hidden on every page.
With intricately detailed illustrations and joyful rhyming text, this picture book is a fun read-aloud for toddlers and pre-schoolers aged 2 years and up.
Where Is the Dragon? is an absurdly fun take on mistaken dragon identity, from the master storyteller and author of Monkey on the Run, a New York Times Best Illustrated Book. Leo Timmers is one of Belgium's pre-eminent picture book artists. Translated from the Dutch edition by poet James Brown.
Picture Book Winner, Teach Early Years Awards 2021.

Other books by Leo Timmers:
Elephant Island
Monkey on The Run
Who's Driving?
Gus's Garage
Franky
Bang

Praise for Where Is the Dragon?
" A] beautiful, unsolvable riddle about fear, its manifestations and what it means to try to conquer what might have no intention of ever causing any harm."--The New York Times
" A] lilting Seussian singsong, with wonderful, surprising rhymes, and little readers and their grown-ups will have a great time combining their voices and giggling through the proceedings."--Kirkus Reviews, starred review

Praise for Leo Timmers:

Monkey On The Run "The silly antics of the little monkey provide forward momentum, but the details in each illustration kept calling us back for a more thorough examination." A New York Times / New York Public Library Best Illustrated Children's Book 2019

Gus's Garage "Clearly, one animal's clutter is another pig's livelihood in this buoyant, rhyming tale." The New York Times

Who's Driving? "Belgian illustrator Leo Timmers creates a delightful play on the fable of 'The Tortoise and the Hare', which sees the hare driving a racing car." The Telegraph, Book of the Year 2020
Gecko Press, 9781776573110, 40pp.
Publication Date: February 2, 2021