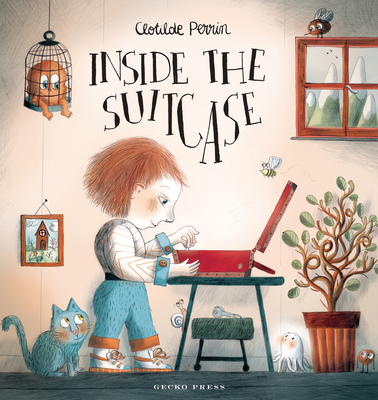 Inside the Suitcase
Hardcover

* Individual store prices may vary.
Description
A New York Times Holiday Gift Books for Children selection
A magical lift-the-flaps adventure--part puzzle, part fairytale--from the bestselling author and illustrator of Inside the Villains.
Away behind the hills you'll find a charming little house. Who's inside? Knock knock... A boy packing his suitcase. Lift the flaps to see what he takes, and travel with him over oceans and mountains, underwater and into the forest. With every step on this voyage of obstacles the boy faces a decision that will lead to a new adventure and help him get home. Delve deeper into each page and remember to use what's in the suitcase
From the mischievous Clotilde Perrin comes a fairy tale full of twists and turns where the boy's suitcase full of tricks and treasures is the key to getting him home. Curious readers young and old will love all 35 unexpected flaps that help tell the story of this interactive giftbook adventure - there's even flaps inside flaps to discover over and over For fans of Alice in Wonderland.
"From France via New Zealand, a surreal or, perhaps, metaphorical journey, rich in surprises."--Kirkus Reviews
Clotilde Perrin is an illustrator and author living in France. She has published over 30 books and is known for her intricate interactive lift-the-flaps books including the international bestseller Inside the Villains.
Other books by Coltilde Perrin:
Inside the Villains
The House of Madame M
Praise for Inside the Villains
"In delicate interactive paper flaps within a wonderfully oversize book, Perrin explores the true characters of three archetypal villains: a wolf, a giant, and a witch."--Publishers Weekly

Readers tantalized by the wolf's list of strengths and flaws and a full version of "The Wolf and the Seven Little Goats" beneath the gatefold opposite can peel aside his pelt. Splendid introductions, chock-full of villainous revelations and insights both figurative and literal.--Kirkus Reviews, Starred
Gecko Press, 9781776573431, 20pp.
Publication Date: September 7, 2021