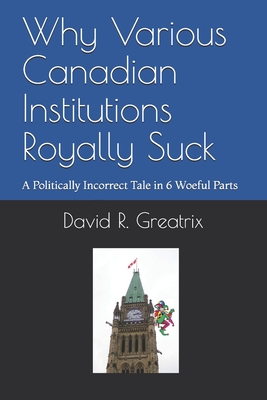 Why Various Canadian Institutions Royally Suck
A Politically Incorrect Tale in 6 Woeful Parts
Paperback

* Individual store prices may vary.
Description
Why Various Canadian Institutions Royally Suck - A Politically Incorrect Tale in 6 Woeful Parts is a compelling historical and political narrative by David Greatrix, author of Farewell to the Good Old Days. Greatrix brings us along on his journey through the history of Canada, with his primary focus from the 1960s to the present. With a comedic touch and various shades of humor, he combines Canadian history with his personal experiences as a Canadian. As the book's title indicates, he ties his occasionally biting irreverent commentary to six Canadian institutions: the mainstream media in Canada, Ryerson University in Toronto, the Natural Sciences and Engineering Research Council in Ottawa, the Canadian Aeronautics & Space Institute in Ottawa, the left-leaning Canadian political parties, and finally, Canada's justice system. Sometimes dark, sometimes poignant, sometimes hopeful, Greatrix does not pull his punches as he peels back the curtain. A must read for any Canadian who has been wondering about the direction Canada has been going these last few decades.
Independent Publisher, 9781777590109, 72pp.
Publication Date: February 6, 2021