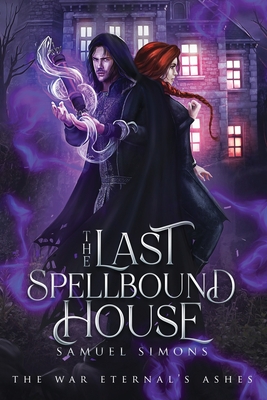 The Last Spellbound House
Paperback

* Individual store prices may vary.
Description
Scholar-adventurer Pyke has a straightforward mission: find the Last Spellbound House; identify its lingering magics; then seize or destroy those magics to prevent their misuse.
Unfortunate, then, that the ancient technologies of the House stand ready to fight him.
"The smallest meaningful unit of magical power is one mortal life."
So believed the Fae and the Dead who ruled the Spellbound World... until they vanished, along with its sunlight.
A century has passed since apocalyptic magic tore all but one of the world's artificial suns from its skies. In service to the Phoenix Kingdom which rose from the ashes, Pyke has been sent to investigate an enchanted mansion whose occupants will prove to be the least of the dangers awaiting him. A baleful, long-sleeping mechanism stirs at the heart of the Last Spellbound House, threatening a true end to what remains of the world.
Thrown into a race against time, Pyke finds that in order to oppose this ancient danger, he must learn the truth of his world's arcane apocalypse. With the help of an aspiring wayfinder named Jenna, the skillful cunning of the mysterious Voice in his head, and the intervention of some diverse and unlikely allies, Pyke might have a chance to stop the shades of the past from snuffing out the Phoenix Kingdom's flame for good.
"A labyrinthine dark fantasy novel brimming with suspense and danger, The Last Spellbound House is a story that any haunted-house mystery connoisseur needs to read " - Indies Today ★★★★★
"I was captivated from the very beginning, by truly exceptional story-telling. I would say it reminds me of the great Tolkien-style world-building that I love - I pictured clearly the setting and imagery." - R. C. Luna, author of the Gates of the Zodiac series ★★★★★
Set in a dark fantasy world recovering from a magical armageddon, The Last Spellbound House is a suspenseful adventure perfect for readers who enjoy the works of Steven Erikson or Christopher Paolini.
A steampunk novel with magitech running like a current beneath the surface of its epic tales, The Last Spellbound House features a diverse cast of characters who make use of, and are threatened by, the remnant workings of an ancient civilization. This first book in the War Eternal's Ashes trilogy constructs an immersive setting from the ground up with a Tolkien-style worldbuilding technique, complete with fictional languages and its own larger-than-life mythology.
Eternity River Publishing, 9781777709013, 398pp.
Publication Date: August 3, 2021