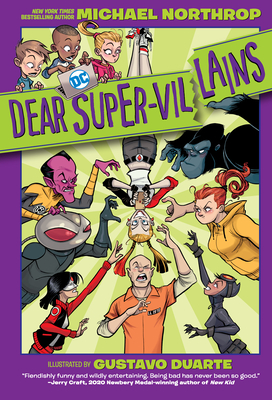 Dear DC Super-Villains
Paperback

* Individual store prices may vary.
Description
The Tip Line of Evil is open! WICKED. INQUIRIES. ONLY.

Peek inside the lives of DC's infamous rogues gallery in Dear DC Super-Villians, where curious kids write to notorious scoundrels, asking them about life on the dark side. Read between the lines and you may notice the baddies are up to something big! Will the Justice League show up in time to stop them? You'll have to write in to the Tip Line of Evil to find out!

From the evil geniuses behind Dear Justice League, New York Times bestselling author Michael Northrop and artist Gustavo Duarte bring you an equally riotous story about characterswho are so good at being bad.

DC Comics, 9781779500540, 176pp.
Publication Date: April 6, 2021
About the Author
Michael Northrop is the New York Times bestselling author of Scholastic's new multi-platform series TombQuest. His first young adult novel, Gentlemen, earned him a Publishers Weekly Flying Start citation, and his second, Trapped, was an Indie Next List selection. His first middle grade novel, Plunked, was named one of the best children's books of the year by the New York Public Library and was selected for NPR's Backseat Book Club. He is originally from Salisbury, Connecticut, a small town in the foothills of the Berkshire mountains, where he mastered the arts of BB gun shooting, tree climbing, and field goal kicking with only moderate injuries. After graduating from NYU, he worked at Sports Illustrated Kids magazine for 12 years, the last five of those as baseball editor.

Gustavo Duarte is a Brazilian cartoonist, graphic designer, and comics creator and currently resides in São Paulo. For the last 20 years, Duarte's cartoons and illustrations have been published in some of the most popular publications in Brazil. In 2009 Duarte began publishing his own comics like Monsters!, Có!, Birds, and others. In addition to his own works, Duarte has also written and illustrated comics for major publishers including DC (BIZARRO) and Marvel (Guardians of the Galaxy and Lockjaw), among others.