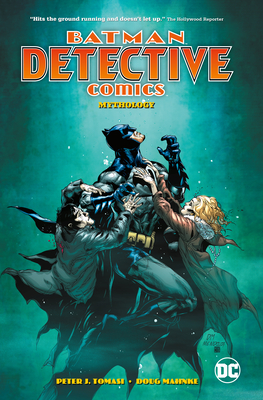 Batman (Hardcover)
Detective Comics Vol. 1: Mythology
DC Comics, 9781779501622, 144pp.
Publication Date: September 10, 2019
Other Editions of This Title:
Hardcover (12/17/2019)
Paperback (2/25/2020)
Paperback (6/20/2017)
Paperback (12/6/2016)
Hardcover (5/5/2020)
Hardcover (8/2/2016)
Hardcover (12/6/2016)
* Individual store prices may vary.
Description
The Arkham Knight has arrived in Gotham City with an entire round table of deadly allies, and their first encounter will leave Batman shaken to his core!

AN OLD ENEMY RETURNS AND A STRANGE NEW MYSTERY BEGINS!

A mysterious enemy who knows everything about Batman's history is pulling no punches. Clues take the form of disturbing reminders of the Dark Knight's darkest days as he is forced to fight a losing battle to protect those who have been most important to his transformation from a scared little boy to Gotham's champion.

When interrogating his foes inside Arkham Asylum raises more questions than answers, Batman must depend on himself alone to discover the mastermind behind these challenges...a foe who has been part of Batman's life since the very beginning of his crime-fighting career!

The acclaimed Superman writer/artist team of Peter J. Tomasi (Adventures of the Super Sons) and Doug Mahnke (Justice League) pit Batman against a figure from his past who knows all the Dark Knight's secrets!

Collects Detective Comics #994-999
About the Author
Peter J. Tomasi is a New York Times best-selling author known for his current work on Superman and previous projects Batman and Robin, Superman/Wonder Woman, Batman - Detective Comics, and Batman Arkham Knight, along with other commercially successful books including Green Lantern Corps, Brightest Day, Emerald Warriors, and Nightwing. Over the course of his career with DC Comics—more than two decades of hit books—Peter served as a group editor ushering in new eras for Batman, Green Lantern, and JSA along with special projects like Kingdom Come. Peter also is the author of the creator owned books Light Brigade (Dark Horse) with artist Peter Snejbjerg, The Mighty (Dark Horse) with Keith Champagne and artists Peter Snejbjerg and Chris Samnee, and the critically acclaimed horror/drama series House of Penance (Dark Horse) with artist Ian Bertram.

Born in 1963 in the Year of the Rabbit, Doug Mahnke embarked on a love affair with comics at the age of five. He landed a job drawing comics for Dark Horse at the age of 24. Doug and writer John Arcudi collaborated on Dark Horse's The Mask and their creator-owned series Major Bummer, originally published by DC. Since then Doug has worked on a wide variety of titles (including Superman: The Man Of Steel, JLA, Batman, Team Zero, Seven Soldiers: Frankenstein, Black Adam: The Dark Age and Stormwatch: P.H.D.) with such writers as Joe Kelly, Judd Winick, Chuck Dixon, Grant Morrison, Christos Gage and Ed Brubaker, just to name a few. He lives in the midwest with his wife and six kids, one dog, and a bunny named Suzie.