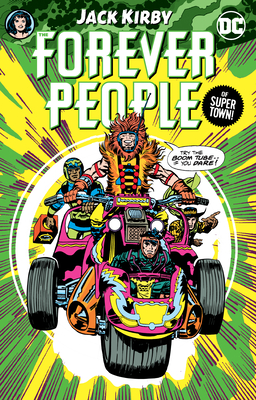 The Forever People by Jack Kirby
Paperback

* Individual store prices may vary.
Description
For the first time in 20 years, Jack Kirby's Forever People reprints the amazing comic book writer and artist's fantastical black-and-white tales of a group of young, otherworldly adventurers.

This book introduces Big Bear, Mark Moonrider, Serafin, Beautiful Dreamer, and Vykin, five young heroes who, with the help of the Mother Box, have the ability to morph into the mighty Infinity Man. Included in this volume are major battles with Darkseid, Desaad, and Glorious Godfrey as well as memorable team-ups with Superman and Deadman.

Collects The Forever People #1-11.
DC Comics, 9781779502308, 304pp.
Publication Date: November 10, 2020
About the Author
Jack "King" Kirby's comics career began in 1937 and continued for nearly six decades. With partner Joe Simon, Kirby first made his mark in comics in the 1940s by drawing and/or creating numerous features for DC Comics including Sandman, The Newsboy Legion and Manhunter, and for Marvel including Captain America, The Young Allies and the Kid Commandos. As the most valued team in comics, Simon and Kirby went on to create titles and concepts including Fighting American, Boy's Ranch and the creation of the romance comics genre. In 1961, the first issue of Marvel's Fantastic Four cemented Kirby's reputation as comics' preeminent creator, and a slew of famous titles followed that elevated him to legendary status, including The Incredible Hulk, Avengers and X-Men. Kirby returned to DC in 1971 with his classic Fourth World Trilogy, which was followed by The Demon and Kamandi. Kirby continued working and innovating in comics until his death in 1994.