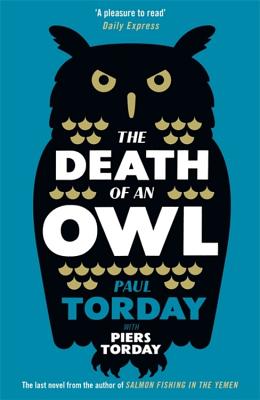 The Death of an Owl (Paperback)
Weidenfeld & Nicolson, 9781780222264, 320pp.
Publication Date: April 11, 2017
Other Editions of This Title:
Hardcover (11/1/2016)
* Individual store prices may vary.
Description
Political chaos, MPs turning on each other, expediency and skulduggery at the highest echelons of government? No, not Brexit, but a brilliant political satire from the bestselling author of SALMON FISHING IN THE YEMEN

Andrew Landford, MP is driving home one night along a dark country lane when a barn owl flies into his windscreen. It is an accident, nothing more. But Andrew sits on a parliamentary committee concerned with the protection of endangered species, and the death of the owl threatens to destroy his hopes of reaching No. 10.
Also in the car is Andrew's old Oxford friend and political adviser, Charles Fryerne. Will they be able to keep the crime under wraps, or will circumstances conspire against them?
Paul Torday's last novel, and completed by his son Piers, this is a timely reminder that in politics, nothing is sacred...
'A pleasure to read' Daily Express
'Skeweringly accurate' Evening Standard
'A compelling blend of morality and satire' Sunday Mirror
'Witty and well-crafted - a delightful gothic fantasy' Guardian
About the Author
Paul Torday burst on to the literary scene in 2007 with his first novel, SALMON FISHING IN THE YEMEN, an immediate international bestseller which has been translated into 28 languages and has been made into a film starring Ewan McGregor, Kristin Scott Thomas and Emily Blunt. His subsequent novels, THE IRRESISTIBLE INHERITANCE OF WILBERFORCE, THE GIRL ON THE LANDING, THE HOPELESS LIFE OF CHARLIE SUMMERS, MORE THAN YOU CAN SAY, THE LEGACY OF HARTLEPOOL HALL and LIGHT SHINING IN THE FOREST, were all published to great critical acclaim. He was married with two sons by a previous marriage, had two stepsons, and lived close to the River North Tyne. He died at home in December 2013.
Piers Torday was born in Northumberland and is the eldest son of Paul Torday. He has worked in live theatre, comedy and TV and is the bestselling author of three children's books, The Last Wild, which was shortlisted for the Waterstones Children's Book Award and nominated for the CILIP Carnegie Medal, The Dark Wild, which won the Guardian Children's Fiction Prize 2014, and The Wild Beyond. He lives in London.
Praise For The Death of an Owl…
Skeweringly accurate... The Death of an Owl will ring true with anyone who has ever hate politicians or fallen out of love—EVENING STANDARD

best suited to a fireside on a winter's night, but it's no less satisfying for that—DAILY MAIL

The Death of an Owl makes the journey from well-crafted and urbane political novel to spooky melodrama with elegance. A pleasure to read—DAILY EXPRESS

Piers has taken up the story so perfectly that you can't see the join.—THE TIMES

Compelling blend of morality and satire—SUNDAY MIRROR

A delightful Gothic fantasy... Witty and well-crafted - completed with panache—THE GUARDIAN