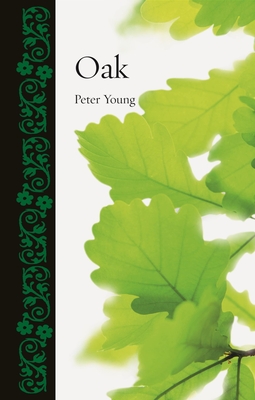 Oak (Botanical)
Hardcover

* Individual store prices may vary.
Description
Botanical, a new series from Reaktion, is the first to integrate horticultural writing with a broader account of the cultural and social impact of plants. Oak, one of the first two books in the series, narrates the biography of the tree that since time immemorial has been a symbol of loyalty, strength, generosity, and renewal. Peter Young explores how the oak, native to the northern hemisphere and found in locations as diverse as the Americas and tropical Asia, has played an important role in state-building, art, folk tales, poems, and songs.
Starting with the pagan societies that venerated the oak, Young examines how the tree was used in other religions, revealing how it was believed to be a gateway between worlds in Celtic mythology and later became sacred to Thor in Norse mythology. He follows the oak as it was adopted by many Western European countries as a national symbol, including England, France, and Germany. The United States Congress designated the oak as America's national tree in 2004, and it is the state tree of Iowa, Connecticut, Illinois, Maryland, New Jersey, and Georgia. Individual oak trees have also gained historical importance, such as the Charter Oak in Hartford, Connecticut, which became a symbol of American independence. In addition to tracing the history of the tree itself, Young investigates oak as a wood used to make furniture, bridges, wine casks, homes, ships, weapons, and even the electric chair, and he describes how the tree has been used as a food source—its fruit, the acorn, was eaten in ancient Greece, ancient Iberia, and Korea, and it was a traditional food of Native Americans.
Packed with information and beautiful illustrations, Oak tells the fascinating tale of this stately, durable member of the natural world.
Praise For Oak (Botanical)…
 "Handsomely designed and beautifully written volumes on subjects you might not think you're interested in. . . . The best thing about [Geranium] and Oak . . . is the focus on cultural history."
— Boston Globe
 "Whether you're a hard-core gardener or simply have a curiosity about plants, [these] two titles . . . are sure to command your attention. . . . Titles in the Botanical series combine accessible horticulture writing and a look at the plant's cultural and social impact. The books are both scholarly and playful." 
— Chicago Tribune
 "This slim volume is literally a romp in the park full of painters, novelists and historians. Oak establishes its credentials very quickly, then dashes along. The illustrations are marvelous. . . . Part of an attractive, lavishly illustrated new series, perfect for house gifts if you're visiting someone who'll welcome you with clean towels and a trowel."
— New York Times Book Review
"Every page is crammed with well-researched facts and vignettes, not a boring one among them. It is not Peter Young's purpose to range across the huge and varied oak family; rather, he describes the oak in the context of the natural world and how it has served and influenced man from the Stone Age up to the present day. . . . His story of oak 'both the tree and the versatile timber' is uplifting: a pity, I thought, to end with the gloomy and familiar refrain about climate change. But that is a small quibble; I still want to own this book, not just as a work of reference but also for the enjoyment it gives."
— House and Garden
"Young's carte blanche sends him off in all kinds of colourful and diverting by-ways. . . . Young writes with great verve and what appears to be a genuine love of oak trees. The illustrations are equally wide-ranging—and, in some cases, quite surprising. Let's hope that future titles in this series succeed with similar brilliance."
— Hortus
"A wonderfully researched book with elegant photographs and illustrations. . . . It is factual as well as decorative and amusing. . . . The pictures of the oak tree as a thing of beauty and friend of mankind are well chosen and informative. . . . Dipping in is addictive."
— Living Woods Magazine
Reaktion Books, 9781780230375, 208pp.
Publication Date: February 15, 2013
About the Author
Peter Young is an independent scholar who lives in Crawley, West Sussex, UK. 
or
Not Currently Available for Direct Purchase