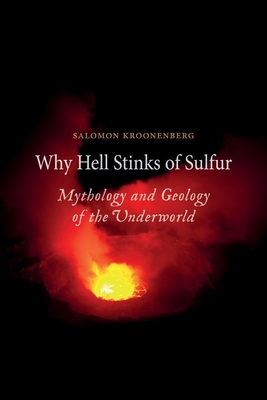 Why Hell Stinks of Sulfur (Hardcover)
Mythology and Geology of the Underworld
Reaktion Books, 9781780230450, 352pp.
Publication Date: June 15, 2013
* Individual store prices may vary.
Description
When people go looking for hell, they go underground. Dante, Aeneas, and Odysseus all journeyed beneath the earth to find the underworld, a place where the dead are tortured according to their sins. Buffy the Vampire Slayer had to deal with a huge underground pit infested with demons below her high school called the Hellmouth. And when Homer Simpson ate the forbidden donut for which he'd sold his soul to the devil, he was sucked through a fiery hole in the ground. Though humans actually haven't gone more than 7.5 miles into the earth, we associate this mysterious underground realm with darkness and death, and the depths of the earth's interior remain an inspiration for writers and artists trying to imagine hell.
Why Hell Stinks of Sulfur uses subterranean mythology as a point of departure to explore the vast world that lies beneath our feet. Geologist Salomon Kroonenberg takes us on an expedition that begins in Dante's Inferno and continues through Virgil, Da Vinci, Descartes, and Jules Verne. He investigates the nine circles of hell, searches a lake near Naples for the gates of hell used by Aeneas, and turns a scientific spotlight on the many myths of the underworld. He uncovers the layers of the earth's interior one by one, describing the variety of gasses, ores, liquids, and metals that add to the immense variety of color that can be found below us. Kroonenberg views the inside of the earth as a living ecosystem whose riches we are only beginning to discover, and he warns against our thirst for natural resources exhausting the earth.
From the underground rivers and lakes that have never seen the light of day to the story of Saint Barbara—the patron saint of mineworkers—Kroonenberg's pursuit of the geological foundations of hell is a fascinating journey to the center of the earth.
About the Author
Salomon Kroonenberg is professor emeritus of geology at the Delft University of Technology. He is the author of The Human Scale.
Andy Brown is a translator specializing in Dutch. His translations include The Encyclopaedia of Liars and Deceivers, also published by Reaktion Books. He lives in The Netherlands.
Praise For Why Hell Stinks of Sulfur: Mythology and Geology of the Underworld…
"Kroonenberg searches literature and the ground beneath us to explore the realities, mysteries, and allegories of our many-layered Earth; en route, he discovers real-life geological features that rival the powerful imagery of Dante's Inferno—from lakes of bubbling tar to mud volcanoes, poisonous caves, enormous sinkholes, and modern coal mines in China that epitomize hell on earth. Interwoven with the voices of poets and philosophers from Homer to Herodotus is a history of the science of geology, accompanied by abundant diagrams and photos. Kroonenberg deftly 'balances... on the edge between science and myth,' inserting lyric beauty into a topic many consider monumentally lifeless. Traveling to the center of the Earth and back with him makes one appreciate the wonder of the underworld."
— Publishers Weekly
"It is the work of someone who knows not only his subject but the history and sources of his own mind. This might be called full intellectual maturity, a ripening; the quality is rare."
— Inside Higher Ed
"A worthwhile addition to serious collections of either classical mythology and science fiction or geology."
— Library Journal
"Kroonenberg provides a guided tour of in his newly translated Why Hell Stinks of Sulfur, a survey of both the literary and geological makeup of hell. . . . Heaven on Earth, it's fair to say, will always lie out in the farthest east, just beyond the horizons of the real, but hell is never far away. It's right underfoot."
— Boston Globe
"Kroonenberg interleaves science, history and autobiography with a light touch, blending lively accounts of classical scholarship with superb descriptions of Earth's interior and how geologists have come to know it. Virgil may no longer be available to accompany us through Hell, but Salomon Kroonenberg proves a witty and erudite guide for the twenty-first century."
— Andrew H. Knoll
or
Not Currently Available for Direct Purchase