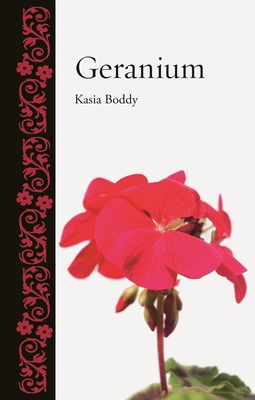 Geranium (Botanical)
Hardcover

* Individual store prices may vary.
Description
They are sometimes called storksbills and originated in South Africa. They may be star-shaped or funnel-shaped, and they range in color from white, pink, and orange-red to fuchsia and deep purple. The geranium and its many species, much loved and also much loathed, have developed since the seventeenth century into one of the most popular garden plants. In this book, Kasia Boddy tells the story of geranium's seemingly inexorable rise, unearthing the role it has played in everything from plant-hunting and commercial cultivation to alternative medicine, the philanthropic imagination, and changing styles in horticultural fashion.
Boddy shows how geraniums became the latest fad for wealthy collectors and enterprising nurserymen after they were first collected by Dutch plant-hunters on the sandy flats near present-day Cape Town. She explains that the flower would not be rare for long—scarlet hybrids were soon found on every cottage windowsill and in every park bedding display, and the backlash against the innocent plant followed quickly on the heels of its ubiquity. Today, geraniums can be found throughout the world, grown as annuals in the regions too cold for them to regenerate. In addition to exploring the history of geraniums, Boddy reveals the plant's other uses, including how they are cultivated and distilled for their scents of citrus, mint, pine, rose, and various spices to use in perfumes. With their edible leaves, they are also used to flavor desserts, cakes, jellies, and teas, and some people believe that certain species provide an effective treatment for a cough.
Featuring over one hundred illustrations, Geranium shows how the plant is portrayed in painting, literature, film, and popular culture, and provides an intriguing example of the global industrialization of plant production.
Praise For Geranium (Botanical)…
 "Boddy is at her best when describing the lowly plant's cultural significance. . . . In a survey that weaves together the aesthetic theories of Goethe and Ruskin, the literary works of Dickens and T. S. Eliot, the paintings of Cézanne and the gardens of Monet, Boddy reminds us that complex meaning and history can be contained in the most common of garden flowers."
— Publisher's Weekly
 "Handsomely designed and beautifully written volumes on subjects you might not think you're interested in. . . . The best thing about [Geranium] and Oak . . . is the focus on cultural history."
— Boston Globe
 "Whether you're a hard-core gardener or simply have a curiosity about plants, [these] two titles . . . are sure to command your attention. . . . Titles in the Botanical series combine accessible horticulture writing and a look at the plant's cultural and social impact. The books are both scholarly and playful." 
— Chicago Tribune
 "Boddy's writing is witty, deft, and elegant, her scholarship lightly worn, her trawl through literature, painting, film, and historical archive, packed with sharp insight. This modest book, through the medium of an unassuming plant, places gardening where it should be: a fundamental part of social history at the heart of our social, cultural, and imaginary life."
— Garden Illustrated
"Do I need to say, I ignored all my other jobs and read the book from cover to cover over the next 24 hours? . . . As an in-depth study of the areas of British and American culture touched by the common red geranium, there is nothing to compare to this book. . . . Well-written, entertaining and enlightening."
— Geraniums Online
"Drawing on an extraordinary variety of references the author leads us through the changing perceptions of geraniums from barometers of moral hygiene to symbols of suburban angst and emblems of sun and cheer with great learning, simply communicated. Their role in literature and art is expertly and engagingly revealed. The images are abundant and eclectic, ranging from commercial ephemera to fine art, and wonderfully capture the ebullience of their subject."
— Garden Design Journal
 "Kasia Boddy's enchanting cultural history of the geranium traces our changing attitude to the flower. . . . [She] does a wonderful job of selecting the most delicious literary cuttings for her book on the lovable plant and its place in our culture."
— Daily Telegraph
 "Geranium has the charming, leggy habit of its subject, sprawling across everything from greenhouse design to novels. You've got to admire a book that leans on no less a garden lover than T. S. Elliot to make a case for the rise and fall of the geranium. . . . Part of an attractive, lavishly illustrated new series, perfect for house gifts if you're visiting someone who'll welcome you with clean towels and a trowel."
— New York Times Book Review
 "If you are interested in sociology, art, history and literature, this book will be a joy for you to read. . . . The book is well written, entertaining and enlightening. . . . A fine and distinctive addition to the literature and history of the geranium. . . . Geranium should be enjoyed by all garden and geranium enthusiasts—pelargonistes—as well as social historians and botanists who want to understand these plants and their historical context and contributions. This book is highly recommended."
— Central Coast Geranium Society
 "Boddy describes the uses of some 280 species, originally sought as symbols of wealth as well as for their medicinal properties. Abundant illustrations throughout this book bring into play the uses of geranium in gardening, art, advertising, and even movies. This book is quite fascinating, providing a detailed and unusual description of a very popular plant."
— Chicago Botanic Garden
 "Monographs can be dull and technical affairs, but the new Botanical series from Reaktion is something else. This book by a Cambridge don is a clever, lively and literary account of the social history of geraniums—more properly Pelargonium. It is a fascinating study that takes the reader from the flower's African origins to our modern bedding plant, the 'cherishable common' without which no summer is complete. . . . There is something for everyone here and the illustrations are as scholarly and entertaining as the text. Readers who are looking for a 'how to grow it' manual may be disappointed, but those in search of a beautifully produced book with plenty of learning worn lightly should be delighted by Geranium."
— The Garden (Magazine of the Royal Horticultural Society)
"Boddy skillfully traces the humble houseplant's rise from its native southern Africa to every windowsill in South London, and beyond. . . . In subtle ways, their their presence continues to inform our notions of gender, class, and race. (In Chicago's summer of 1964, a geranium in a white person's windowsill signified that they opposed racism.) This is what's extraordinary about Boddy's short book: she convincingly argues for pelagonium's influence on the shape of Western culture."

— Los Angeles Review of Books
"[Boddy] skillfully weaves together references about geraniums from Darwin, Dickens, and other authors to show how their roles changed from rare exotics to common, well-known garden and house plants, and discusses the new technologies . . . that made the development of new cultivators possible. The book is richly illustrated throughout with over 100 spectacular images of geraniums in works of art, herbarium specimens, and photographs."

— Choice
Reaktion Books, 9781780230481, 216pp.
Publication Date: February 15, 2013
About the Author
Kasia Boddy teaches in the English Department at University College London and is the author of Boxing: A Cultural History, also published by Reaktion Books, and The American Short Story Since 1950.
or
Not Currently Available for Direct Purchase