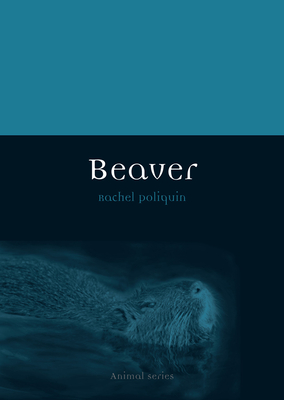 Beaver (Animal)
Paperback

* Individual store prices may vary.
Other Editions of This Title:
Hardcover (12/4/2018)
Paperback (6/23/2020)
Description
With unique fish-like tails, chainsaw teeth, a pungent musk, and astonishing building skills, beavers are unlike any other creature in the world. Not surprisingly, the extraordinary beaver has played a fascinating role in human history and has inspired a rich cultural tradition for millennia.  In Beaver, Rachel Poliquin explores four exceptional beaver features: beaver musk, beaver fur, beaver architecture, and beaver ecology, tracing the long evolutionary history of the two living species and revealing them to be survivors capable of withstanding ice ages, major droughts, and all predators, except one: humans. 

Widely hunted for their fur, beavers were a driving force behind the colonization of North America and remain, today, Canada's national symbol. Poliquin examines depictions of beavers in Aesop's Fables, American mythology, contemporary art, and environmental politics, and she explores the fact and fictions of beaver chain gangs, beaver-flavored ice cream, and South America's ever-growing beaver population. And yes, she even examines the history of the sexual euphemism. Poliquin delights in the strange tales and improbable history of the beaver. Written in an accessible style for a broad readership, this beautifully illustrated book will appeal to anyone who enjoys long-forgotten animal lore and extraordinary animal biology.     

Praise For Beaver (Animal)…
"Another in the Animal series of handsome, pocket-sized studies of interesting animals and their relations with humanity down the ages. Strong on style and illustration, this book impresses just as much with its content. It's fascinating to learn just how complex beavers' construction is and what makes them so well-equipped."
— Scotland Outdoors
"Poliquin's book is a natural history, an almanac of mythology and amusing anecdotes from the intermingled histories of beavers and humans. Reaktion has produced a library of animal books ranging from Albatross to Walrus . . . and Beaver is Poliquin's worthy contribution . . . filled with handsome engravings and historic illustrations."
— Literary Review of Canada
Reaktion Books, 9781780234236, 224pp.
Publication Date: June 15, 2015
About the Author
Rachel Poliquin is a writer and curator engaged with the cultural history of the natural world, and she has curated taxidermy exhibits for the Museum of Vancouver and the Beaty Biodiversity Museum at the University of British Columbia. She is author of The Breathless Zoo: Taxidermy and the Cultures of Longing. She lives in Vancouver.