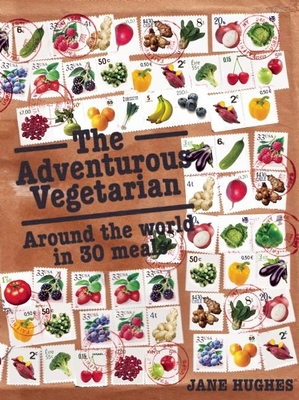 The Adventurous Vegetarian (Paperback)
Around the World in 30 Meals
New Internationalist, 9781780261249, 294pp.
Publication Date: October 1, 2013
Other Editions of This Title:
Hardcover (10/4/2013)
* Individual store prices may vary.
Description
Thirty countries, thirty sumptuous menus offering everything you need to give your friends and family a taste of how vegetarians eat all around the world.
Working with many vegetarian groups, societies, and chefs, Jane Hughes has brought together favorite meals and personal stories from Belgium to China, Cuba to Palestine.
An inspiration for dinner clubs, themed parties, or simply the appetite to try something new, The Adventurous Vegetarian encompasses both traditional and modern--from African stews and Asian curries to veggie/vegan twists on classic "new world" recipes, such as macaroni cheese and blueberry cheesecake (both without the cheese )
All recipes are illustrated with tantalising color photography, do not involve complicated techniques, and suggest alternative ingredients should some be hard to source.
Each country's chapter is introduced with personal stories and insights into what it's like to be vegetarian, from those with a rich history, such as India, to those where to be veggie can sometimes be an uphill, but satisfying, struggle.
Jane Hughes has twenty years' experience of working as food writer, production manager, and publisher. She has worked with The Vegetarian Society since the 1980s and edits their quarterly magazine. A vegetarian since her teens, she has a passion for sharing great food, and believes that fresh, delicious vegetarian and vegan dishes are the perfect way to bring everybody together around the dinner table. Interviews, food and cookery course reviews, features, and recipes can be found at veggiefoodwriter.co.uk.
About the Author
Jane Hughes has 20 years' experience of working in publishing, as an editor, production manager and small publisher. She has been associated with The Vegetarian Society since the 1980s, she has a clear understanding of the meaning of the word 'vegetarian' and daily access to experts.She has a website and a blog which contain samples of her work: interviews, food and cookery course reviews, features and recipes.http: //www.veggiefoodwriter.co.uk/http: //veggiefoodwriter.blogspot.com/
or
Not Currently Available for Direct Purchase