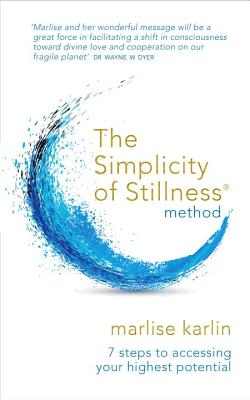 The Simplicity of Stillness Method
3 Steps to Rewire Your Brain, and Access Your Highest Potential
Paperback

* Individual store prices may vary.
Other Editions of This Title:
Paperback (9/22/2016)
Description
The Simplicity of Stillness® (SOS) is an evolutionary technology designed to release stress, heal your body, and access your highest potential. It is so advanced that your life begins to transform in three simple steps – Apply, Activate, Act.
 
Backed by twenty years of study in Eastern wisdom, holistic traditions, and the "New Science," Marlise Karlin, founder of SOS, shows you step-by-step how this rapid and direct method can diminish self-defeating behavior and connect you to the sweet spot of life where deep peace and the flow of higher consciousness converge. Offering you a rare insight into landmark research on Epigenetics, Neuroplasticity, DNA and Subtle Energies, Marlise provides evidence from over a decade of case studies to demonstrate how you can release blocked cellular memory, imprint new neural pathways and activate vital life energy. This book is filled with the hope and mystery of people who have experienced remarkable recoveries from depression, anxiety, PTSD and other illnesses by using this advanced technology.
 
SCIENCE AND EASTERN WISDOM EXPLAIN IT.THE SOS METHOD REALIZES IT. This book contains bonus digital material and the groundbreaking Stillness Sessions® Technology; audio recordings that transmit Energy on waves of sound, activating advanced meditative states. Your mind doesn't even have to become still for it to work – you'll begin to feel more clarity, joy, and enthusiasm almost immediately.
Praise For The Simplicity of Stillness Method: 3 Steps to Rewire Your Brain, and Access Your Highest Potential…
"Marlise and her wonderful message will be a great force in facilitating a shift in consciousness toward divine love and cooperation on our fragile planet."--Wayne Dyer

"The teachings of Marlise Karlin's body of work give meaning to the most important sources of wisdom available to our world." – William A. Tiller PhD. Professor Emeritus Stanford, Scientist, What The Bleep Do We Know 
 
"Marlise's message has advanced decades in just the last three years. Her personal story validates her message. Absorb slowly with an open mind. Get ready for some mind-shifts." – Ron Willingham, author, Authenticity: The Head, Heart, and Soul of Selling, Former CEO, Integrity Systems Inc. 
 
"Marlise is a fearless conduit for Divine love who has dedicated her life to providing individuals access to the greatest treasure of all." – Panache Desai, named "A Contemporary Thought Leader" by Oprah 
 
"Marlise is a true explorer of 'inner space' who operates at the leading edge of consciousness. Her unique gifts in healing are seamlessly interwoven with electronic technology to create audio tapestries that exist in a class by themselves. Marlise walks her talk as she invites us on journeys of transformation and evolution." – Dr. Elliott Maynard, Ph.D. Marine Sciences, Author Brave New Mind, Advisory Board, Research Integrity Institute 
 
"Stillness Sessions became a constant companion wherever I traveled. I never grew tired of them, nor did I exhaust their potential… which impressed me as being all the more powerful and profound, precisely because of their apparent yet deceptive simplicity." – Wade Davis, Ph.D. Ethnobotanist, Samuel Johnson awardwinning author of Into the Silence  
 
"The Simplicity of Stillness has moved to a whole new level; with the science, and the audio technology Marlise developed it's the most powerful healing tool I have ever experienced. I was also deeply moved by her work with ALS patients. I wish my fiancé could have experienced the SOS Method before he died. It would have made a huge difference for both of us." – Dr. Irene Conlan, Former Assistant Director at the Arizona Department of Health Services 
 
"Marlise's process of going into 'Stillness' is the most amazing I have experienced. I've listened 100 times and I love it because there is a freedom in every single moment." – Karen Elkins, Editor and Founder of Science to Sage Magazine  
 
"The Simplicity of Stillness program brings me to such a level of calm. I have been in pain since my early 20s, in excruciating pain because I have really bad fibromyalgia. And now it's gone. I have been feeling no pain in my body for over a year, which is a miracle in itself." – Robyn Rezny, caregiver "I was quite empty because of stress, lack of time, and worrying. Through The SOS Method I could connect myself within seconds, feeling amazing energy and complete happiness wherever I was." – Clemens Findeisen, Faculty at International Centre for Development Studies "I incorporate Stillness Sessions into my daily routine. It has helped me to stay calm, focused, and positive against a backcloth of adversity and uncertainty. It has helped me to evaluate and create some wonderful new possibilities." – Stephen Pauley, CEO of Your Business Matters Ltd.

"As modern science moves closer to metaphysics at ever-increasing speeds, Marlise Karlin has not only utilized the best of scientific technology, she has combined that with ancient healing/wisdom teachings drawn from both Eastern and Western tradition. The protocol she offers readers grew out of her own experience healing from severe emotional and physical challenges. Once she had discovered for herself just how powerful the connection to what she calls infinite intelligence is, she began creating this laymen-friendly system for using that energy to make life altering changes.
At the heart of the SOS system are audio recordings (included in several formats with the book) which move the conscious teachings into the realm of super-awareness, opening the door for profound healing of mind, body, and spirit. Let your [readers] know that even if they have tried guided meditation, affirmations, and energy healing in the past, they will find that this system takes them to a new level of consciousness — quickly, easily, and without the sometimes confusing trappings that many other systems include." --Anna Jedrziewski, Retailing Insight
Watkins Publishing, 9781780287553, 288pp.
Publication Date: September 15, 2015
About the Author
Marlise Karlin has unique credentials, pioneering research in the mind/body field, she is recognized as an inner peace expert, author and founder of the Simplicity of Stillness® (SOS) method. Marlise has been interviewed by NBC and Fox News, featured in top media publications including Natural Health and Om Times, and has spoken at global events with Cesar Milan, Gregg Braden, and Dr. Eric Pearl. She is a contributor to The Huffington Post and Malika Chopra's Intent.com.

Marlise was a keynote speaker at The Mind, Body, Spirit Festival in London, England, and The Energy Psychology Conference in Toronto, Canada, where her work was granted continuing education credits for Naturopathic Doctors. Marlise has led programs at Omega Institute, Kripalu Center, Wainwright House and at New Thought churches across the U.S.

http://marlisekarlin.com The author lives in Los Angeles, CA.
or
Not Currently Available for Direct Purchase