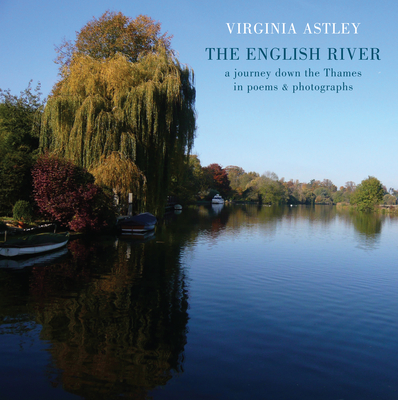 The English River
A Journey Down the Thames in Poems & Photographs
Paperback

* Individual store prices may vary.
Description
Virginia Astley has been a much admired songwriter and musician since the 1980s, known for her engaging lyrics as well as for her melodious style. Now her other two passions take centre stage in this book: poetry and the River Thames. She grew up by the river's upper reaches, knew the old lock-keepers and was familiar with all aspects of the Thames and its hinterland: both the natural world and the people whose lives are intimately connected with the river. In recent years, she has returned to the Thames, working for a summer as an assistant lock-keeper, and walking its length to record and respond to its landscapes, river life and river folk as a poet and photographer. Her pamphlet The Curative Harp won Ireland's Fool for Poetry chapbook competition in 2015 and was published by Southword. The English River is her first book-length poetry collection, showing many new sides to this multi-talented artist: as poet, nature writer, storyteller and photographer. The foreword is by Peter Townshend. Virginia's story is about the river and the people who work on it, especially those who man the locks. She captures a view of the upper reaches of the River Thames that is entirely fresh. There are glimpsed moments of the claustrophobic beauty of the wooded parts that contrast with the open expanses of uplifting countryside where the river meanders through woodland and farmland. Focussing on the professionals who work on the river, and who manage the locks and the flood plains around them, Virginia suggests - as she works as a lock-keeper's assistant - that they become almost addicted to the peace and beauty of their place of work. She herself becomes enchanted, that is certain. She makes herself vulnerable in the most romantic way, working and writing and evoking everything she sees and feels as both a storyteller and poet, and as photographer.' - Pete Townshend, musician.
Bloodaxe Books, 9781780371955, 96pp.
Publication Date: June 21, 2018
About the Author
Virginia Astley emerged as one of the UK's unique singer songwriter talents throughout a productive career covering the 1980s onwards. From her many collaborations with a variety of notable names in the music industry, through to her own solo career, she has managed to carve out her own particular style. Virginia grew up in her musical environment, with her father, a composer, writing at home throughout her childhood. She took up the piano at 6 and later the flute. As a young child she would often deviate from the notes in front of her, preferring instead to improvise! It was while she was studying at the Guildhall School of Music in London that she began to develop her own songs and play keyboards for various bands. She worked with Skids frontman, Richard Jobson and recorded with a number of artists. In 1981 she signed to the Why-Fi label, releasing A Bao A Qu. Following this she formed a band with old friends, Kate St John and Nicky Holland. Adopting the title of The Ravishing Beauties, they played Club Zoo in Liverpool and supported The Teardrops Explodes on tour. Virginia's first album, co-produced with Russell Webb, was From Gardens Where We Feel Secure, released in 1983. Throughout the 80s she recorded for both Elektra and WEA. In 1986 she worked with Ryuichi Sakamoto on her album Hope in a Darkened Heart. This led to her signing with Nippon Columbia and later recording All Shall Be Well and Had I the Heavens for them. During the 1990s she also wrote a musical based on the novel The Woodlanders by Thomas Hardy. Several other writing projects surfaced over the years, including a long poem based on a twenty-four hour walk and set to music, Maiden Newton Ecliptic. She also started publishing her poetry in magazines and winning prizes in poetry competitions. Her pamphlet The Curative Harp won Ireland's Fool for Poetry chapbook competition in 2015 and was published by Southword. In 2017 Virginia was writer-in-residence at Thomas Hardy's Cottage, his birthplace in Dorset. She continues to perform, together with her daughter Florence on harp, regularly at Max Gate - Thomas Hardy's house in Dorchester. She is currently working on Keeping the River, a narrative non-fiction book exploring the River Thames and the lives of those who work and live on the river. Her first book-length collection, The English River: a journey down the Thames in poems and photographs is published by Bloodaxe in 2018.