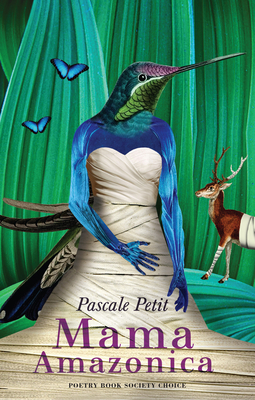 Mama Amazonica
Paperback

* Individual store prices may vary.
Description
Mama Amazonica is set in a psychiatric ward and in the Amazon rainforest, an asylum for animals on the brink of extinction.
It reveals the story of Pascale Petit's mentally ill mother and the consequences of abuse. The mother transforms into a giant Victoria amazonica waterlily, and a bestiary of untameable creatures - a jaguar girl, a wolverine, a hummingbird - as she marries her rapist and gives birth to his children. From heartbreaking trauma, there emerge luxuriant and tender portraits of a woman battling for survival, in poems that echo the plight of others under duress, and of our companion species. Petit does not flinch from the violence but offers hope by celebrating the beauty of the wild, whether in the mind or the natural world.
Mama Amazonica is Pascale Petit's seventh collection, and her first from Bloodaxe. Four of Pascale Petit's previous six collections have been shortlisted for the T.S. Eliot Prize. Winner of the inaugural Laurel Prize in 2020, Mama Amazonica won the Royal Society of Literature's Ondaatje Prize 2018 - the first time a poetry book has won this prize for a work of fiction, non-fiction or poetry best evoking the spirit of a place, was shortlisted for the Roehampton Poetry Prize 2018, and was the Poetry Book Society Choice for autumn 2017.
Mama Amazonica was chosen by Deborah Smith as one of her 2022 books of the year in The White Review.
Bloodaxe Books, 9781780372945, 112pp.
Publication Date: September 28, 2017
About the Author
Pascale Petit was born in Paris, grew up in France and Wales and lives in Cornwall. She is of French/Welsh/Indian heritage. Her eighth collection, Tiger Girl (2020), won an RSL Literature Matters Award while in progress, and a poem from the book won the 2020 Keats-Shelley Poetry Prize. Tiger Girl was shortlisted for the 2020 Forward Prize for Best Collection and for the English language poetry category shortlist for Wales Book of the Year 2021. Her seventh collection Mama Amazonica (Bloodaxe Books, 2017), a Poetry Book Society Choice, won the RSL Ondaatje Prize 2018 and the Laurel Prize 2020, and was shortlisted for the Roehampton Poetry Prize 2018. She has published six previous poetry collections, four of which were shortlisted for the T.S. Eliot Prize, most recently, her sixth collection, Fauverie (Seren, 2014). A portfolio of poems from that book won the 2013 Manchester Poetry Prize. In 2018 she was appointed as Fellow of the Royal Society of Literature. She received a Cholmondeley Award from the Society of Authors in 2015, and was the chair of the judges for the 2015 T.S. Eliot Prize. Her books have been translated into Spanish, Chinese, Serbian and French. She is widely travelled in the Peruvian and Venezuelan Amazon, China, Kazakhstan, Nepal, Mexico and India.