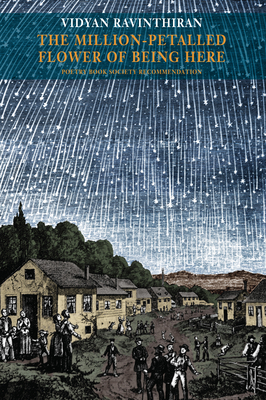 The Million-Petalled Flower of Being Here
Paperback

* Individual store prices may vary.
Description
Vidyan Ravinthiran's second collection is a book of sonnets for his wife. These are love poems that turn analytical, consider the world, and in which the pronoun 'we' aspires to stand for a larger community, including (if you like) readers themselves. Many describe life in the North East for a mixed-race couple, considering both the redemptive force of love and the cultural origins of our discontent. Brexit; racist and sexist abuse; class; our work-life balance, and our relationship with institutions (be it our employer, or the NHS); taboos surrounding mental health; civil war in Sri Lanka; media representation of minorities; immigrant anxieties: these poems look inward, but also outward. Worrying at the link between society and our private lives, they scorn a politics which would put us all in separate boxes. Love, and imagination, may not conquer all, but as recent shocks suggest, 'we' must at least try to understand people different to us. Shortlisted for the 2019 Forward Prize for Best Collection, the collection is a Poetry Book Society Recommendation.
Bloodaxe Books, 9781780374765, 64pp.
Publication Date: June 20, 2019
About the Author
Vidyan Ravinthiran currently teaches at the University of Birmingham, and is an editor at Prac Crit, the online magazine of poetry and poetics, as well as the author of Elizabeth Bishop's Prosaic (Bucknell, 2015), winner of both the University English Prize and the Warren-Brooks Award for Outstanding Literary Criticism. His first book of poems, Grun-tu-molani (Bloodaxe Books, 2014), was shortlisted for the Forward Prize for Best First Collection, the Seamus Heaney Centre Poetry Prize and the Michael Murphy Memorial Prize. His second collection, The Million-petalled Flower of Being Here (Bloodaxe Books, 2019), a Poetry Book Society Recommendation, is shortlisted for the 2019 Forward Prize for Best Collection; poems towards it won a Northern Writers Award. He also writes literary journalism, most recently for Poetry (verse) and The Telegraph (fiction), and is represented as an author of fiction by the Wylie Agency. He will be teaching at Harvard University from January 2020.