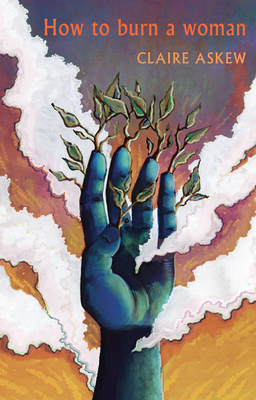 How to Burn a Woman
Paperback

* Individual store prices may vary.
Description
Claire Askew's electrifying second collection is an investigation of power: the power of oppressive systems and their hold over those within them; the power of resilience; the power of the human heart. It licks flame across the imagination, and rewrites narratives of human desire. It is a collection for anyone who has ever run through their life 'backwards/ in the dark, / with no map' - these bright poems illuminate the way.
How to burn a woman throngs with witches, outsiders, and women who do not fit the ordinary moulds of the world. It is a collection which traces historic atrocities, and celebrates the lives of those accused of witchcraft with empathy, tenderness and rage. It lifts a mirror up to contemporary systems of oppression and, in language that is both vivid and accessible, asks hard questions of our current world. These poems also delve deep into love in all its forms: from infatuations to the bitter ending of relationships. They ask what it is we want, how we might go about getting it, and what its cost might be. How to burn a woman sweeps the world up in its arms and presents it: a rough bonfire of London buses, Salem streets, Edinburgh closes. Askew's astute, incisive language lifts from every page, throwing sparks.

Bloodaxe Books, 9781780375724, 96pp.
Publication Date: January 11, 2022
About the Author
Claire Askew was born in 1986 and grew up in the rural Scottish Borders. She has lived in Edinburgh since 2004, and holds a PhD in Creative Writing & Contemporary Women's Poetry from the University of Edinburgh. Her poems have appeared in numerous publications, including The Guardian, Poetry Scotland, PANK, The Edinburgh Review and Be The First To Like This: New Scottish Poetry (Vagabond Voices, 2014), and have been selected twice for the Scottish Poetry Library's Best Scottish Poems of the Year. In 2013 she won the International Salt Prize for Poetry, and in 2014 was runner-up for the inaugural Edwin Morgan Poetry Award for Scottish poets under 30 for an earlier version of her first book-length collection, This changes things, which was published by Bloodaxe in 2016. She was shortlisted for the Edwin Morgan Poetry Award for a second time in 2016. This changes things was also shortlisted for the Saltire Society First Book of the Year Award 2016, the Seamus Heaney Centre Prize for First Full Collection 2017 and the Michael Murphy Memorial Prize 2017. Claire has been a Scottish Book Trust Reading Champion (2016/7), a Jessie Kesson Fellow (2017) and the Writer in Residence at the University of Edinburgh (2017-2019). Also a novelist, her award-winning Edinburgh-based DI Birch series is published by Hodder & Stoughton. Her second full-length collection, How to burn a woman, is published by Bloodaxe in 2021.