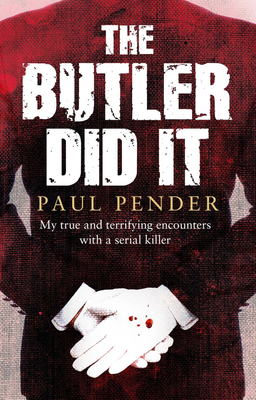 The Butler Did It (Paperback)
My True and Terrifying Encounters with a Serial Killer
Mainstream Publishing, 9781780575612, 272pp.
Publication Date: April 1, 2013
* Individual store prices may vary.
Description
An incredible, blackly humorous, first-hand account of one man's friendship with a notorious serial killer, who served a life sentence from 1978 until his death in 2002
This book is in one sense the record of a friendship, if friendship can be held to include death threats. To this day I cannot sharpen a pencil—and as a writer I sharpen a lot of pencils—without experiencing a frisson of fear. Roy is once again thrusting the pencil's needle-sharp point towards my retina, threatening to ram it through my eye and into my brain, as he helpfully informs me "This'll kill you outright, you cunt!"
Medical experts I have subsequently consulted tell me he was right: that is indeed a very effective way of killing someone. One of the many strange things about Roy is that though he may have been a pathological liar, in his own peculiar fashion he was a stickler for the truth.
Roy Fontaine, also known as Archie Hall, was a butler to Britain's aristocracy, and a rumored lover of Prince Charles' great-uncle, Lord Mountbatten. He was also a serial killer whose modus operandi was to gain the confidence of his wealthy employers before taking their jewels and then their lives. This is the dark and strange story of an unusual friendship between screenwriter Paul Pender and Roy Fontaine, who considered Pender an ally and asked him to write his life story. In a chilling twist, Fontaine then threatened to kill Paul. Paul Pender reveals the secrets of Roy Fontaine's double life and describes his often terrifying encounters with a convicted serial killer.
About the Author
Paul Pender wrote and coproduced the movie Evelyn starring Pierce Brosnan and is currently head of television at Infinity Media, the company that produced the Oscar-winning film Capote. He lives in Hollywood.
Praise For The Butler Did It: My True and Terrifying Encounters with a Serial Killer…
"The idea for this chilling tale of the Scottish "Killer Butler" came from a 1993 phone conversation between Pender, then a BBC script editor, and a man who introduced himself as "Britain's top jewel thief and confidence trickster." Then incarcerated "at Her Majesty's pleasure," the convict wanted Pender to write his life story—he'd seen some of Pender's work, and he needed someone who could get the "humour" of his story. Pender didn't realize then that the man he was speaking with, Roy Fontaine, had also murdered five people while in the service of various members of the British aristocracy. Over the course of their interviews at Full Sutton Prison, Fontaine comes across as charming, cunning, and a great storyteller, able to converse about everything from the Old Testament to Nietzsche and Roy Rogers. But when Fontaine rehashes some of his murders, the reality of his mania becomes clear—after describing having a drink while watching one of his victims die, Pender express disbelief, to which Fontaine replies: "Have you ever killed anyone?... If you ever did, you'd need a drink too. I'm only human, after all." Though the unsettling effect of Fontaine's remembrances is sometimes dampened by Pender's distracting asides, this nightmarish confessional is ruthlessly exciting." (July) —Publishers Weekly (04/22/2013)
"Terrific. Incredibly funny!"  —Bruce Beresford, director, Tender Mercies, Driving Miss Daisy


"A rip-roaring read—and Hollywood can't be long in coming a-calling to turn this story into a film."  —Ross King, author, Brunelleschi's Dome
"Ruthlessly exciting."
—Publishers Weekly
or
Not Currently Available for Direct Purchase