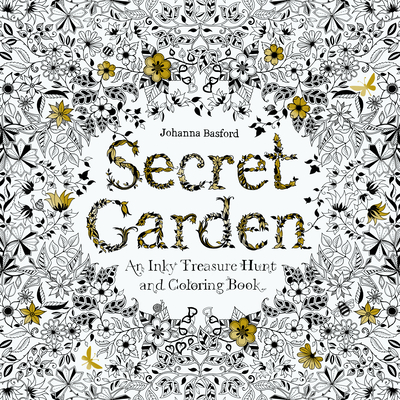 Secret Garden
An Inky Treasure Hunt and Coloring Book for Adults
Paperback

* Individual store prices may vary.
Description
Secret Garden: An Inky Treasure Hunt and Colouring Bookby Johanna Basford is one of the world's bestselling adult colouring books with 96 colouring pages waiting to be brought to life with colour.

This interactive colouring book takes you on a ramble through a garden created in beautifully detailed pen–and–ink illustrations by Johanna Basford.

There are pictures to colour, mazes to solve, patterns to complete and lots of space for you to add your own inky drawings. Use felt tip pens to add a splash of colour or a black pen with a fine nib to create your own doodles and details.

Johanna Basford has sold over 21 million books worldwide. Secret Garden: An Inky Treasure Hunt and Colouring Book was her first book. It has been translated into over 44 languages.

'Colouring in isn't just for kids. These intricate, magical drawings from Secret Garden by Johanna Basford are just waiting to be brought to life.' The Guardian

'Joanna Basford's Secret Garden is an 'inky treasure hunt and colouring book' filled with intricate drawings waiting to be brought to life. It's the colouring–in book you wish you had the hand–eye coordination to do, aged two.' The Independent

'Prepare yourself to get lost in a magical world with this interactive activity book that takes you through a secret garden of incredible drawings by Johanna Basford.' Buzzfeed

'Coloring books for adults have been around for decades, but Basford's success…has helped to create a massive new industry category.' The New Yorker

Also available by Johanna Basford from Laurence King Publishing:
Enchanted Forest: An Inky Quest and Colouring Book (9781780674872)
Secret Garden: Journal (9781856699853)
Secret Garden:12 Notecards (9781856699471)
Enchanted Forest: Artist's Edition (9781780677842)
Enchanted Forest: Journal (9781780679181)
Enchanted Forest: 12 Notecards (9781780677835)
Praise For Secret Garden: An Inky Treasure Hunt and Coloring Book for Adults…
"...a coloring book even adults will want to use." - MarthaStewart.com

"...a sublime labyrinth of gorgeously detailed coloring pages, and yet it's so much more." - TakesAVillage.net

"...the prettiest coloring book of the season." - GirlsLife.com

"...this book has multigenerational appeal. It's not just a coloring book, by any means. Some pages have space where the garden is incomplete so kids (and adults) can create a little flora and fauna of their own." - CoolMomPicks.com

"Artist Johanna Basford is at the forefront of the grown up coloring trend. Her whimsical artwork just makes us want to drop all our responsibilities and color forever." - Hello Giggles

"There are few art forms as meditative, nostalgic and all-around blissful as the coloring book.Consider trading in your yoga mat for a set of markers and peruse the gorgeous gardens of Basford's imagination." - Huffington Post
Laurence King Publishing, 9781780671062, 96pp.
Publication Date: March 26, 2013
About the Author
Johanna Basford is an illustrator and ink evangelist who creates intricate and hand-drawn illustrations rooted in the flora and fauna that surrounds her home in rural Scotland.
Coverage from NPR