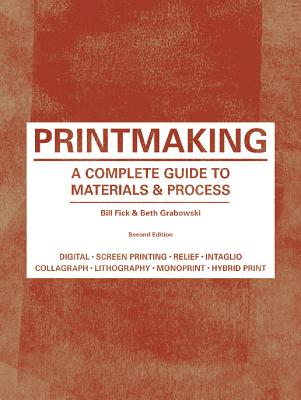 Printmaking
A Complete Guide to Materials & Process (Printmaker's Bible, process shots, techniques, step-by-step illustrations)
Paperback

* Individual store prices may vary.
Description
Printmaking is a practical and comprehensive guide to printmaking techniques with clear step–by–step illustrations. This fully updated second edition contains new images throughout, including improved process shots and examples of the latest work from contemporary printmakers.

There are expanded chapters on digital and mixed media processes, as well as a brand new 'Print & Make' chapter, which explores the opportunities for creative expression within the many processes available to print makers. For example, this edition includes a new, detailed section on Japanese moku hanga woodblock printing while the more traditional techniques of relief, intaglio, collograph, lithography, screen printing and monoprint have also been refreshed.

The addition of new images showing a broader range of subject matter, include more contemporary prints and international artists. Each technique is explored from the development of the printing or digital matrix, through the different stages of creation to image output. Guidance on how to set up a print studio, sections on troubleshooting techniques and the inclusion of up–to–date lists of suppliers, workshops and galleries make this an essential volume for beginner and experienced printmakers alike.

Special attention is given to safe practices, addressing the important concern for health and safety. Step–by–step illustrations provide an enhanced visual reference – either photographic or diagrams for clarity – and the authors have supplied more information on safer and more sustainable practices. Since nontoxic alternatives are a rapidly growing and ever–evolving landscape, Printmaking 2nd Edition presents products and practices that are accessible worldwide.

Praise for Printmaking 2nd Edition

'A lavishly illustrated large–format volume that constitutes a veritable printmaker's bible.' – The West Australia News
Laurence King Publishing, 9781780671949, 256pp.
Publication Date: August 25, 2015
About the Author
Bill Fick is a printmaker and Visiting Assistant Professor in the Art Department at Duke University who has exhibited his work internationally. He is also the director of Cockeyed Press, which specializes in the production of satirical linocut prints.

Beth Grabowski is a print artist and the Zachary Taylor Smith Distinguished Term Professor of Art at the University of North Carolina at Chapel Hill. She is the current president of SGC International, the professional organization for print artists, educators and printmaking enthusiasts. Her work has been exhibited internationally.