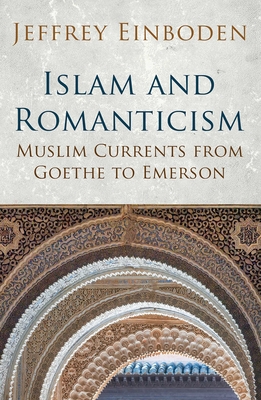 Islam and Romanticism
Muslim Currents from Goethe to Emerson (Islamic and Muslim Contributions to Cult)
Paperback

* Individual store prices may vary.
Description
Revealing Islam's formative influence on literary Romanticism, this book recounts a lively narrative of religious and aesthetic exchange, mapping the impact of Muslim sources on the West's most seminal authors. Spanning continents and centuries, the book surveys Islamic receptions that bridge Romantic periods and personalities, unfolding from Europe, to Britain, to America, embracing iconic figures from Goethe, to Byron, to Emerson, as well as authors less widely recognized, such as Joseph Hammer-Purgstall.

Broad in historical scope, Islam and Romanticism is also particular in personal detail, exposing Islam's role as a creative catalyst, but also as a spiritual resource, with the Qur'an and Sufi poetry infusing the literary publications, but also the private lives, of Romantic writers. Highlighting cultural encounter, rather than political exploitation, the book differs from previous treatments by accenting Western receptions that transcend mere "Orientalism", finding the genesis of a global literary culture first emerging in the Romantics' early appeal to Islamic traditions.
Praise For Islam and Romanticism: Muslim Currents from Goethe to Emerson (Islamic and Muslim Contributions to Cult)…
"Jeffrey's Einboden's book is important and timely. Its detailed and scholarly tracing of the theme of Islam through German and English Romanticism is indicative not only of the 'Orientalism' within the traditions of Western literature in the last two centuries, but of the seriousness with which Islam, it language and literature, was taken by figures as important and as diverse as Goethe and Byron. This should be compulsory reading not only for students of literature, but for everyone concerned with the relationship between Western culture and the Muslim world."
— David Jasper – Professor of Literature and Theology, University of Glasgow

'Islam and Romanticism uniquely maps and analyses diverse debts of Western culture and civilization to Islamic precedents. Focusing on select developments of authorship in the 18th and 19th century, from Goethe to Emerson, it provides fascinating new insight into the catalyzing effects which certain Muslim sources appear to have had on Western literary and cultural creativity. This book is of interest – and a delight to read – for anyone curious about literary history and the conversations between cultures and religions.'
— Professor Sebastian Günther, University of Göttingen

'In elegant prose, Einboden shows us how Muslim sources inspired and catalyzed Western creativity. The story of the imaginative effect of Muslim influences on such figures as Herder, Coleridge, Mary Shelley, Emerson, and of course Goethe, will forever change the way we read the Romantic literary canon and its affect.'
— Shawkat Toorawa, Cornell University
Oneworld Academic, 9781780745664, 288pp.
Publication Date: December 9, 2014
About the Author
Jeffrey Einboden is Associate Professor in the English Department at Northern Illinois University. Most recently, he has authored Nineteenth-Century U.S. Literature in Middle Eastern Languages, a study of celebrated American authors in Arabic, Persian and Hebrew translation. Einboden's research has appeared in journals such as Middle Eastern Literatures, Translation and Literature, and the Journal of Qur'anic Studies; his article "The Genesis of Weltliteratur" was named in 2006 one of the "100 seminal articles" published by Oxford University Press Journals during the past century.
or
Not Currently Available for Direct Purchase