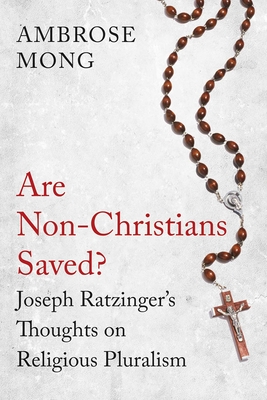 Are Non-Christians Saved? (Paperback)
Joseph Ratzinger's Thoughts on Religious Pluralism
Oneworld Publications, 9781780747149, 384pp.
Publication Date: March 10, 2015
* Individual store prices may vary.
Description
Religious pluralism upholds the idea that multiple religions can coexist and be beneficial for society; it is a concept spreading around the world, not only in Asia with its myriad beliefs and practices, but also in Europe where many non-Christian religious traditions are growing. On the face of it, religious pluralism is the ultimate message of tolerance, a vitally important principle for how we can live peacefully. But not everyone sees it this way.

Joseph Ratzinger, former Pope Benedict XVI and Prefect of the Congregation for the Doctrine of the Faith, is amongst those who regard religious pluralism as a threat to Christianity. If only Christianity can save us, then how can religious pluralism do anything but hinder Christianity's cause? Ambrose Mong examines Ratzinger's thoughts on this subject and evaluates how the church has responded to the call of the Second Vatican Council to create dialogues with other faiths. By looking at Ratzinger's educational, cultural and religious background, Mong reveals the roots of Ratzinger's Eurocentric bias and how it has shaped the views that he holds today, including his attitude towards religious pluralism, his ecclesiology and his ecumenical theology.

Are Non-Christians Saved? is essential reading for students, teachers and scholars seeking a thorough analysis of Ratzinger's position, including why he believes religious pluralism, with its 'evil twins' of relativism and secularism, is a threat to Christianity.
About the Author
Ambrose Mong obtained his B.A. Honours and M.A. in English from the University of Calgary and the University of British Columbia in Canada respectively. He entered the Dominican Novitiate in Seville, Spain, and completed his philosophical and theological studies at the University of St Thomas Aquinas in Rome. Ordained as a priest in Hong Kong in 2008, he continued to study at The Chinese University of Hong Kong, completing his M.Phil. and Ph.D. in Religions Studies. He teaches at the University of St Joseph in Macau and The Chinese University of Hong Kong.
Praise For Are Non-Christians Saved?: Joseph Ratzinger's Thoughts on Religious Pluralism…
'Bold and challenging'.
— Theology

'Carefully nuanced... explores Josef Ratzinger's writings about the foundations of Christianity, the challenge of modernity and the corrosive effect of relativism... As we transition into a world church, Father Mong suggests a pathway of understanding and interfaith dialogue that will enrich the church that we are becoming and perhaps result in a greater harmony, even as all people of faith seek the truth together.'
— Patrick Howell, S.J., professor of pastoral theology at Seattle University and publisher of the periodical Conversations

'Lucid and comprehensive ... Through a careful analysis of Ratzinger's reactions to the work of Asian theologians, Mong shows that Ratzinger's theology, despite its implicit claim to universality, fails to grasp its own cultural limitations and thus is unable to speak to the spiritual needs of Asia. Though critical, Mong's work is respectful, fair-minded and balanced. To understand Ratzinger's view on religious pluralism there is no better guide.'
— Peter C. Phan – Ellacuria Chair of Catholic Social Thought, Georgetown University
or
Not Currently Available for Direct Purchase