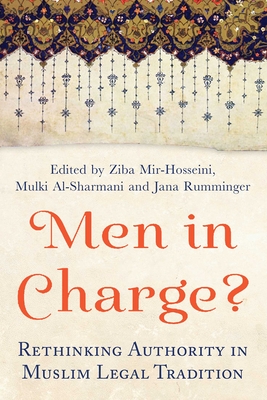 Men in Charge?
Rethinking Authority in Muslim Legal Tradition
Paperback

* Individual store prices may vary.
Description
Both Muslims and non-Muslims see women in most Muslim countries as suffering from social, economic, and political discrimination, treated by law and society as second-class citizens subject to male authority. This discrimination is attributed to Islam and Islamic law, and since the late 19th century there has been a mass of literature tackling this issue.

Recently, exciting new feminist research has been challenging gender discrimination and male authority from within Islamic legal tradition: this book presents some important results from that research. The contributors all engage critically with two central juristic concepts; rooted in the Qur'an, they lie at the basis of this discrimination. One refers to a husband's authority over his wife, his financial responsibility toward her, and his superior status and rights. The other is male family members' right and duty of guardianship over female members (e.g., fathers over daughters when entering into marriage contracts) and the privileging of fathers over mothers in guardianship rights over their children.

The contributors, brought together by the Musawah global movement for equality and justice in the Muslim family, include Omaima Abou-Bakr, Asma Lamrabet, Ayesha Chaudhry, Sa'diyya Shaikh, Lynn Welchman, Marwa Sharefeldin, Lena Larsen and Amina Wadud.
Praise For Men in Charge?: Rethinking Authority in Muslim Legal Tradition…
'Men in Charge? is bound to be a key scholarly text for anyone researching or studying law or Islam in general. It is a necessary book, one which is carefully designed to combat misconceptions and prejudice, and one which, most importantly, has a practical focus: all of the book's contributors are writing for change. In reminding us that there is a difference between the Qur'an and the subsequent misogynist interpretations at the hands of certain actors ("Shari'ah court judges, community leaders, imams, women in leadership positions who perpetuate patriarchal structures of power, etc"), these authors pave the way for a brighter and fairer future for Muslim women.'
— LSE Review of Books

'A powerful new weapon for Islamic gender warriors: a book examining how a single verse in the Quran became the basis for laws across the Islamic world asserting Muslim men's authority – and even superiority – over women.'
— Time, Carla Power

'Brimming with fact and insight, these critical and constructive essays by a global array of scholars and reformers focus our attention on how patriarchy functions in Muslim texts and contexts, and how it can be challenged. Their distinctive analyses converge and diverge, leading the reader to a new awareness of the range and power of Muslim feminist thought in the twenty-first century.'
— Kecia Ali – Associate Professor of Religion, Boston University

'Bar none, this is the best treatment of women and Islamic law that I have read in the past twenty years ... profound, eye-opening and even exhilarating. It is difficult for me to take seriously any student or scholar dealing with the subject of guardianship of men over women in Islam unless, or until, they have read and digested this book.'
— Dr. Khaled Abou El Fadl – Omar and Azmeralda Alfi Professor of Law, UCLA School of Law

'A highly stimulating collection of pieces by notable scholars and activists that critically examines the concepts of qiwamah and wilayah in the Muslim legal tradition, Men in Charge provides a complex and clearly articulated analyses of the problems with the dominant exegetical and juristic understandings of gender relations. This volume ventures beyond a mere critique; it offers significant alternative readings of Islam's epistemological sources and delivers significant insights into gender relations from diverse perspectives including Islam's spiritual tradition and the lived realities of Muslim women with a view to offering ethical and just alternatives to the dominant and traditional understanding of gender relations. Men in Charge is, without a doubt, an extremely valuable contribution to the discourse on gender relations, equality, justice and women's rights in Islam and among Muslims.'
— Farid Esack – Professor in the Study of Islam and Head of Department of Religion Studies, University of Johannesburg
Oneworld Academic, 9781780747163, 304pp.
Publication Date: March 10, 2015
About the Author
Ziba Mir-Hosseini is a legal anthropologist. A professorial research associate at the Centre for Islamic and Middle Eastern Law, SOAS, University of London, she is founding member of Musawah: Global Movement for Equality in Muslim Family Laws, and the convenor of its knowledge-building initiative to rethink the notion of male authority in Muslim family laws. Among her books are: Marriage on Trial: A Study of Islamic Family Law in Iran and Morocco (IB Tauris, 1993), Islam and Gender: The Contemporary Religious Debate in Iran (Princeton University Press, 1999), Gender and Equality in Muslim Family Law: Justice and Ethics in the Islamic Legal Tradition (co-edited, I. B. Tauris, 2013). She has also co-directed two award-winning documentaries: Divorce Iranian Style (1999) and Runaway (2000).

Mulki Al-Sharmani is Academy of Finland research fellow and lecturer, Faculty of Theology, University of Helsinki, and research coordinator of the Musawah knowledge-building initiative to rethink the notion of male authority in Muslim family laws. Her research interests include Muslim family laws, Islamic feminism, gender, migration and transnationalism. She is the editor of Feminist Activism: Women's Rights and Legal Reform (ZED Books, forthcoming 2014), and her Egyptian Muslim Family Laws: Legal Reforms and Gender Justice is under consideration for publication.

Jana Rumminger currently lives in Singapore and works with Musawah, the global movement for equality and justice in the Muslim family. Her focus is on issues related to reform of Muslim family laws and implementation of the UN Convention on the Elimination of All Forms of Discrimination against Women (CEDAW). After graduating from Northeastern University School of Law, Jana spent a year as a Luce Scholar in Kuala Lumpur, Malaysia, where she worked on advocacy and law reform at a local NGO, Women's Aid Organization. She then served as programme officer with International Women's Rights Action Watch Asia Pacific, an international NGO that works for the realization of women's human rights through the lens of CEDAW and other international human rights instruments. She graduated from Princeton University in 1997 and earned an MS in Law, Policy and Society concurrently with her law degree at Northeastern.
or
Not Currently Available for Direct Purchase