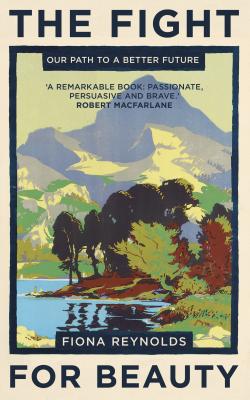 The Fight for Beauty
Our Path to a Better Future
Hardcover

* Individual store prices may vary.
Other Editions of This Title:
Paperback (9/12/2017)
Description
We live in a world where the drive for economic growth is crowding out everything that can't be given a monetary value. We're stuck on a treadmill where only the material things in life gain traction and it's getting harder to find space for the things that really matter but money can't buy, including our future.

Fiona Reynolds proposes a solution that is at once radical and simple – to inspire us through the beauty of the world around us. Delving into our past, examining landscapes, nature, farming and urbanisation, she shows how ideas about beauty have arisen and evolved, been shaped by public policy, been knocked back and inched forward until they arrived lost in the economically-driven spirit of today. A passionate, polemical call to arms, The Fight for Beauty presents an alternative path forward: one that, if adopted, could take us all to a better future.
Praise For The Fight for Beauty: Our Path to a Better Future…
'The Fight For Beauty is a remarkable book: passionate, persuasive and brave.'
— Robert Macfarlane

'A passionately written clarion call to all who value the quality of beauty in their surroundings. It is a book which should be compulsory reading for all who hold environmental responsibilities in both local and national government.' 
— Times Literary Supplement

'Shines light on those inspired to try to reverse the damage done to wildlife and the landscape in the 19th century…Compelling…It was clearly intended to be an uncomfortable read – and it is.'
— Country Life

'A book fizzing with ideas and passion…Full of stories of politicians and officials who made a difference for good, it shows that politics matters. I hope it will inspire today's leaders to fight for beauty'.
— The Countryman

'[A] spirited defence of the British landscape'.
— Apollo

'Few people are better qualified to write the history of the century-old fight to protect the British countryside and point the way to its future than Fiona Reynolds'.
— Countryfile Magazine

'A fascinating story told by someone who has lived and worked at the heart of the struggle for more than 30 years... This deeply inspiring book needs to transform the government of Britain.'
— Adam Nicolson, author of Sea Room

'Fiona Reynolds writes with clarity, wisdom and passion about a subject in which she has few if any peers. It is an important story in which she argues convincingly that, while Britain of course needs economic progress, the human spirit needs beauty every bit as much. At its heart, her book is a warning against thoughtless depredation authorised by policy-makers who ignore or dismiss this fundamental truth. Despite her forebodings, however, Reynolds is an optimist who believes that we will wake up before it is too late. If so, her masterly cri de coeur will prove to have been an invaluable inspiration.'
— Jonathan Dimbleby
Oneworld Publications, 9781780748757, 352pp.
Publication Date: June 7, 2016
About the Author
Dame Fiona Reynolds DBE is Master of Emmanuel College, Cambridge, and a former Director-General of the National Trust. A noted campaigner and media figure, this is her first book, distilling decades of experience and thought. When not at her post in Cambridge, she lives near Cirencester.
or
Not Currently Available for Direct Purchase