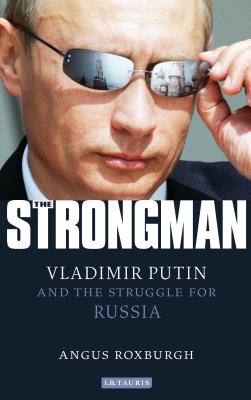 The Strongman: Vladimir Putin and the Struggle for Russia (Hardcover)
Vladimir Putin and the Struggle for Russia
I. B. Tauris & Company, 9781780760162, 338pp.
Publication Date: February 28, 2012
* Individual store prices may vary.
or
Not Currently Available for Direct Purchase
Description
Russia under Vladimir Putin has proved a prickly partner for the West, a far cry from the democratic ally many hoped for when the Soviet Union collapsed. Abroad, Putin has used Russia's energy strength as a foreign policy weapon, while at home he has cracked down on opponents, adamant that only he has the right vision for his country's future.
Former BBC Moscow correspondent Angus Roxburgh charts the dramatic fight for Russia's future under Vladimir Putin--how the former KGB man changed from reformer to autocrat; how he sought the West's respect but earned its fear; how he cracked down on his rivals at home and burnished a flamboyant personality cult, one day saving snow leopards or horseback riding bare-chested, the next tongue-lashing Western audiences. Drawing on dozens of exclusive interviews in Russia, where he worked as a Kremlin insider advising Putin on press relations, Roxburgh also argues that the West threw away chances to bring Russia in from the cold by failing to understand its fears and aspirations following the collapse of communism.
About the Author
Angus Roxburgh is one of Britain's most distinguished foreign correspondents. An author and renowned journalist, he was the Sunday Times Moscow Correspondent in the 1980s until he was expelled from the Soviet Union in a tit-for-tat espionage row. He returned in the 1990s and was the BBC's Moscow correspondent during the Yeltsin years. Subsequently, he worked as an advisor and speechwriter for Putin's communications team, a role which gave him unrivalled access to the Kremlin's inner circle.
Praise For The Strongman: Vladimir Putin and the Struggle for Russia…
"A solid foreign correspondent narrative of Putin's behavior" - Bill Keller, The New York Times
"The considerable value of this book lies in his painstaking and empathetic effort to understand how Mr.. Putin came to power, why many Russians still support him today, and how the West's approach to Russia has helped to shape his rule." – The Wall Street Journal

"A serious book that portrays a Russian administration at sea in a world most of its officials did not comprehend. Putin himself emerges as a more complex character than the epithet "strongman" would suggest…Every chapter of this book is worth reading." – The Independent (UK)
"[A] lively and absorbing study of the Putin years." -
The Guardian
(UK)
"As a former adviser to the Kremlin in 2006-09, working for the Brussels based consultancy GPlus, Roxburgh had an excellent vantage point, and here he offers a stellar cast of sources, drawn from those closest to Putin and Western leaders. Their accounts make this is a valuable book." - European Voice
"Roxburgh is a talented journalist and writer...a useful history of the Putin era....with views from Russian politicians, and some of the key players from the world of international politics, it is a book firmly rooted in fact and analysis. This means that Roxburgh's approach is refreshingly free from some of the usual polemic, and he is to be congratulated for giving credit where credit is due and for underlining Putin's role in stabilising Russia after the free-fall of the Yeltsin years." - Good Book Guide
Coverage from NPR
Advertisement