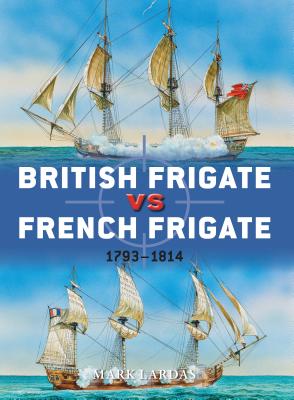 British Frigate vs French Frigate: 1793-1814 (Paperback)
1793-1814
Osprey Publishing (UK), 9781780961323, 80pp.
Publication Date: May 21, 2013
* Individual store prices may vary.
or
Not Currently Available for Direct Purchase
Description
In the Age of Fighting Sail (1650-1820), ambitious officers of the navies of many nations sought command of a frigate. Speedy, nimble and formidably armed, frigates often operated independently, unlike the larger ships of the line. Legendary sailors such as Edward Pellew and Charles-Alexandre LEon Durand, Comte de Linoise, found that commanding such a ship offered numerous opportunities for wealth - in the form of prize money paid out for captured enemy vessels - and, even more importantly, prestige and promotion for captains who prevailed in the numerous single-ship duels that characterized frigate warfare. During in the Revolutionary and Napoleonic Wars both Great Britain and France employed frigates to achieve their maritime objectives: to perpetuate its supremacy the Royal Navy needed to be strong everywhere, while the French Navy concentrated its efforts on deploying single frigates or small frigate squadrons to probe for weak points in the British mastery of the seas. Between 1793, when HMS Nymphe fought and captured the French frigate La ClEopAtre, and the 1814 clash between HMS Hebrus and L'Etoile British and French frigates met and fought in over 100 battles. Of these no fewer than 32 were pure frigate duels, with a pair of frigates fighting without the interference of another major warship before the battle ended. Attention and romance attached to these clashes, both at the time and right up to the present day; literary characters such as Horatio Hornblower and Jack Aubrey have perpetuated the legend of these spirited battles on the high seas for successive generations. In this book, four representative frigate duels are examined: first, a battle fought between two closely matched ships (HMS Nymphe (36) vs La ClEopAtre (32), 18 June 1793); second, a victory won by an inferior British frigate over a superior French frigate (HMS Pallas (32) vs Minerve (40), 14 May 1806); third, a victory - the only one - by an inferior French frigate over a superior British frigate (HMS Ambuscade (32) vs BaIonnaise (24), 14 December 1798), and fourth, victory of a superior British frigate over an inferior French frigate (HMS Indefatigable (44) of Hornblower fame vs La Virginie (40), 21 April 1796). Featuring specially commissioned artwork and offering expert analysis, this study provides a vivid account of the bloody combats fought by the most romantic warship of the Revolutionary and Napoleonic era - the frigate.
About the Author
Mark Lardas holds a degree in Naval Architecture and Marine Engineering, but spent his early career at the Johnson Space Center doing Space Shuttle structural analysis, and space navigation. An amateur historian and a long-time ship modeller, Mark Lardas is currently working in League City, Texas. He has written extensively about modelling as well as naval, maritime, and military history.
Praise For British Frigate vs French Frigate: 1793-1814…
"This nice new book by American author Mark Lardas is probably the best single book on explaining what the ships, the tactics, and the men operating these vessels were like and what they experienced."
- Cookie Sewell, www.cybermodeler.com (June 2013)

"In this book, author Mark Lardas looks at the history of the development of the frigate from both [the British and the French] points of view. This includes the quality and training of the men who sailed these ships. We are then provided with several combats between the two nations as examples to what all that was previously covered did to the way a battle played out. The book then ends with an assessment of what was covered. This is all accompanied by period artwork as well as more modern illustrations, making for another excellent title in this series and one that I can highly recommend for an interesting read."
- Scott Van Aken, www.modelingmadness.com (June 2013)
Advertisement