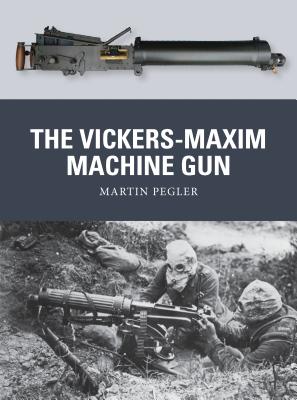 The Vickers-Maxim Machine Gun (Paperback)
Osprey Publishing (UK), 9781780963822, 80pp.
Publication Date: May 21, 2013
* Individual store prices may vary.
or
Not Currently Available for Direct Purchase
Description
The world's first self-powered machine gun, the Maxim gun became a potent symbol of Victorian colonialism in the closing years of the 19th century. It was the brainchild of Sir Hiram Maxim, the American-born firearms inventor who founded the company bearing his name with financing from Albert Vickers, who became the company's chairman; Maxim's company was absorbed by Vickers, Sons and Company in 1897. Subsequent variants in British, German and Russian service - the .303in Vickers (1912), 7.92mm MG 08 (1908) and 7.62mm PM M1910, respectively - dominated both the Eastern and Western Fronts during World War I and soldiered on into World War II, while the Vickers remained in front-line British service essentially unchanged until 1968.
The .577/450in Maxim's revolutionary design eschewed the hand-cranking required by previous rapid-firing guns, instead harnessing the weapon's recoil energy to eject each spent cartridge and insert the next. Water-cooled and capable of 600 rounds per minute, it was often mounted on a tripod and belt-fed, unlike earlier models such as the Gardner and the Gatling, which were usually mounted on horse carriages and hopper-fed. First demonstrated in 1884, the Maxim was adopted by the British Army in 1888 and saw service in the First Matabele War (1893-94); in one incident, 50 soldiers with four Maxims fought off 5,000 warriors. Although it was hampered by its weight and easily spotted (before the advent of smokeless powder) owing to the clouds of smoke it produced while firing, the Maxim was considered more reliable than its contemporaries; its very presence on the battlefield was believed to give its users a significant psychological advantage over their opponents. Even so, the armies of many nations remained skeptical about the reliability of machine guns in general, and at the outset of World War I only two were attached to each infantry battalion of the British Expeditionary Force.
About the Author
Martin Pegler has a BA Hons in Medieval and Modern History and an MA in Museum Studies, both from University College, London, and was for many years the Senior Curator of Firearms at the Royal Armouries Museum, Leeds. He is the author of a number of books including The Military Sniper since 1914 (Osprey, 2001), Firearms in the American West 1700-1900 (The Crowood Press, 2002), and the highly acclaimed Out of Nowhere: A History of the Military Sniper (Osprey, 2004), and he has also contributed to a number of magazines. In the 1980s he had the privilege of interviewing many World War I veterans about their wartime experiences, and the recordings are now part of the sound archives of the Imperial War Museum, London. Martin is the series editor for Osprey's Weapon series.
Advertisement