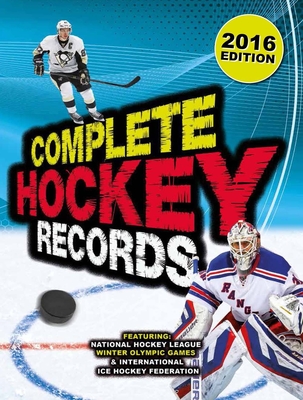 Complete Hockey Records (Hardcover)
2016 Edition
Carlton Books, 9781780977447, 192pp.
Publication Date: September 6, 2016
* Individual store prices may vary.
Description
This must-have reference for hockey fans traces the sport from its modern origins in Montreal to the high-tech ice battles of today. Fully revised and updated to include the 2014 Sochi Winter Olympic Games and the 2014-15 NHL season, it also offers complete records, club-by-club highlights, and biographies of great stars. NHL, Olympic, and International Ice Hockey Federation records and photos make up each colorful spread, bringing the game to life.

Minor pro, international youth play, awards, all-stars, the amateur draft, and college and junior hockey are all covered. Complete Hockey Records will settle many an argument and provoke many a spontaneous quiz.
About the Author
Dan Diamond wrote Treasures of the National Hockey League for Carlton. He is the publisher of the National Hockey League Official Guide & Record Book (Triumph Books) and edited the Total Hockey Encyclopedia (Total Sports). He produced category-defining large-format illustrated books to mark the NHL's 75th anniversary in 1991 and the centennial of the Stanley Cup in 1992 and created comprehensive media guides in print and online for the Winter Olympics and World Cup of Hockey. He lives and works in Toronto. Bill Bernardi, based in Florida, is a hockey expert who has written about the sport for a number of leading newspapers and the highly respected PA SportsTicker and SportsDirect Inc wire services. He wrote the Hockey Sticker Activity Book, also for Carlton Books.
or
Not Currently Available for Direct Purchase