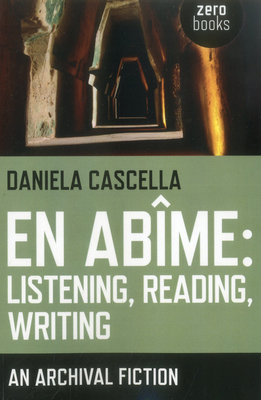 En Abime
Listening, Reading, Writing: An Archival Fiction
Paperback

* Individual store prices may vary.
Description
En Abime explores listening and reading as creative and critical activities driven by memory and return, reshaped into the present. It introduces an idea of aural landscape as a historically defined cultural experience, and contributes with previously unexplored references to the emerging area of listening as artistic practice, adopting an expansive approach across poetry, visual art and literature. ...poetic, incisive, grounded in politics and history yet continually pushing at the edges of what we now consider to be sound. She interrogates notions of music and the shifting experience that is silence with a freshness and coherence that is inspiring David Toop, Author of Ocean of Sound, Haunted Weather and Sinister Resonance ... compulsive and fast, rushing with you through textual territories that seem spoken, direct and contemporary while being nostalgic - invoking a past that creates the present tense. Salom Voegelin, author of Listening to Noise and Silence: Towards a Philosophy of Sound Art.
Zero Books, 9781780994031, 159pp.
Publication Date: September 16, 2012
About the Author
Daniela Cascella is an Italian writer based in London. For over ten years her research has been focused on sound and listening, across publications and curated projects. Her recent work explores Writing Sound in connection to landscape and memory, and fictional tropes in criticism.Daniela holds an MFA in Art Writing from Goldsmiths University of London and won the 2011 BookWorks Award for Art Writing.She has published two books in Italian, The Edge of the World and Sculptors of Sound. Before moving to London in 2009 Daniela worked in Rome as a journalist and sound art curator.
or
Not Currently Available for Direct Purchase