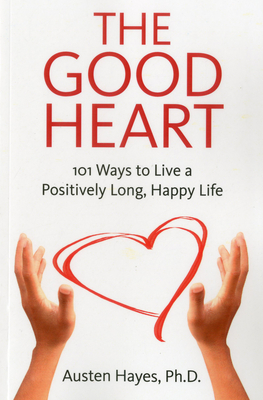 The Good Heart
101 Ways to Live a Positively Long, Happy Life
Paperback

* Individual store prices may vary.
Description
Rooted in positive psychology, focusing on cardiac prevention and recovery, The Good Heart: 101 Ways to Live A Positively Long, Happy Life helps readers replace depression, stress and anger with self-confidence, generosity and optimism. The book, with its 101 one- to two-page tips, written in easy-to-understand language by a well-respected expert in her field, targets the millions throughout the world who suffer from some form of diagnosed cardiovascular disease, as well as those dedicated to disease prevention. This formula for providing succinct, up-to-date research-based tips helps readers quickly absorb information on how to behave, feel and think, approaching heart health in a new way--emphasizing more than exercise and diet--with changed attitude as the key to prevention and recovery. Combining information gathered from 30 years experience in cardiac psychology, hundreds of cardiac studies, and the most recent findings of both cognitive and positive-psychology literature, The Good Heart will change lives. ...a great book that will give you practical, easy-to-use pieces of daily wisdom to give balance and meaning to your life. Robert L. Leahy, Ph.D., Director of the American Institute for Cognitive Therapy, Author of The Worry Cure Dr. Austen Hayes helps others think more positively and, in doing so, lowers their chances of suffering a heart attack or other life-threatening disease.
O-Books, 9781780995250, 109pp.
Publication Date: September 16, 2012
About the Author
Dr. Austen Hayes is a licensed clinical psychologist, educator and consultant. Since 1978 she has been helping others acquire skills and lifestyle practices vital to the realization of optimal health and well-being. As a cognitive-behavioral and health psychologist, Dr. Hayes is expert in understanding how patterns of thinking influence emotion and the effect emotion may have on physiological responding. Her methods reflect her belief that psychological health is more fully achieved when positive rather than negative characteristics are the point of focus. Dr. Hayes earned a Ph.D. degree from Hofstra University, in New York, in 1992, and completed a two-year internship at the American Institute for Cognitive Therapy, in New York City. An enduring interest in physical activity and its effects on mental function guided Dr. Hayes in her research, comparing persons with long-term involvement in running or cycling with sedentary individuals, measuring reactions indicating levels of brain health. In 2000 she was named a Founding Fellow of the Academy of Cognitive Therapy and is a Charter Member of the International Positive Psychology Association. Early in her career Dr. Hayes worked with the Pritikin Program, teaching preventive health practices to cardiac patients. As a Research Assistant at the Miami Heart Institute, in Miami, Florida, she was part of a team studying hypertension in a population of well-elderly participants. Dr. Hayes completed six years as a cardiac care consultant in the department of Physical Medicine at Beth Israel Medical Center, in New York, and since 1998 holds a post as a member of the Attending Professional Staff, Clinical Instructor, within the Department of Psychiatry at the Mt. Sinai Hospital, in New York City. Dr. Hayes conducts cardiac support groups at Mt. Sinai and at the Adirondack Medical Center, in Lake Placid, New York. Facing career change, health concerns, the disappointments of an unrewarding relationship, retirement or chronic stress, her clients are encouraged to look at their lives with as much clarity and integrity as possible. Setting goals, modifying life-limiting assumptions, and identifying and utilizing individual capacities and strengths fortifies the foundation for personal fulfillment and growth. Dr. Hayes is a frequent guest speaker at forums and seminars. She conducts her private psychotherapy practice by telephone from her home in Essex, New York.
or
Not Currently Available for Direct Purchase